Audible Sound Bites with Jeannie Pierre
Audible Sound Bites with Jeannie Pierre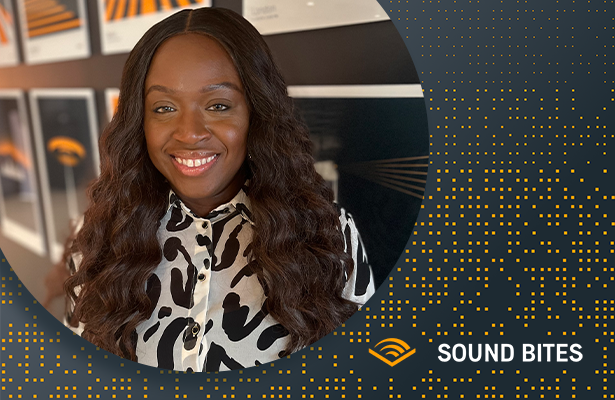 Audible Sound Bites with Jeanie Pierre
Jeannie Pierre is a Customer Care Team Manager who provides her team with the training, tools and support they need to give Audible customers the best experience. She's also committed to supporting their career journeys, so part of her role includes connecting her team with developmental opportunities at Audible that are in line with their interests.
CAN YOU DESCRIBE YOUR ROLE AND WHAT YOU LOVE ABOUT IT?
Customer Care plays a major role in the success of our company, and as a team manager, my main goal is to equip my team with the resources that they need to be able to effectively resolve problems and provide a world-class customer service experience. I get the opportunity to manage a team that is very passionate about what they do and strives to always want to continue to make it better for our customers. In addition, my goal is to foster an environment where they are able to thrive, develop and grow in their careers.
My passion for helping people is really what motivates me to come to work every day. I feel a sense of fulfillment when I am able to help others through coaching, providing guidance on their career and achieving their target goals. It's a very rewarding experience because I get a chance to collaborate, make an impact and add value to those that I am working with.
WHAT GETS YOU EXCITED TO COME TO WORK IN THE MORNING?
I am very passionate about performance and mobile marketing, figuring out how to acquire new customers and get them excited about Audible. I love the diversity of tasks that come with my role being very analytical and metrics-driven, but also creative and technical. In addition, we have an awesome team at Audible. The working culture is very caring, collaborative, empowering, and team-oriented.
WHY DID YOU CHOOSE TO WORK AT AUDIBLE, AND WHAT MAKES YOU WANT TO STAY?
The moment I stepped foot in the door, I knew this was where I wanted to be! I chose to work at Audible because of the work culture and the active outreach work that they have been doing in Newark. The reason I stayed is because I feel valued and that leadership genuinely invests in and cares about the employees.
We have created a culture where we feel like we are one big family. I get to work with some of most talented, innovative, and knowledgeable people to create and improve experiences for the customers we serve. As many have said before, "Customer Care is the heart and soul of Audible."
WHAT AUDIBLE BENEFITS DO YOU LOVE MOST OR HAVE YOU TAKEN ADVANTAGE OF?
I love that Audible really take the employees' well-being into consideration by giving us wellness days, and the wellness reimbursement that we are able to tap into as well. I also enjoy the free lunch and snacks, which you have a variety of options to choose from, and you do not have to spend money during the week.
WHAT ARE YOU LISTENING TO CURRENTLY?
One Word that Will Change Your Life by Jon Gordon, Dan Britton, and Jimmy Page. The concept is to choose one word as a simpler way of achieving your goals, and the title walks you through the process of how to choose that one word for the year.
Audible's People Principles celebrate who we are and where we've been, and guide the way we work shoulder to shoulder to enhance the lives of our millions of customers around the world. They reflect and apply to everyone who works at Audible—the entrepreneurs and operators, the dreamers and the doers, those who have worked here for 20 years and those who have arrived in the past few weeks and months.