Benefits at Audible
We offer a wide range of exciting benefits for our employees; some vary depending on our locations.
Compensation & Retirement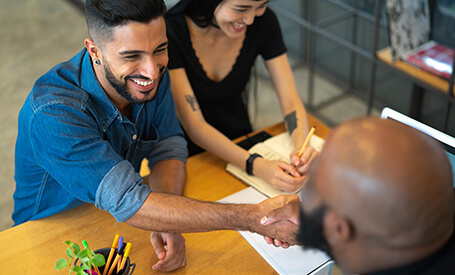 Restricted Stock Units (RSUs)
We recognize our employees as important stakeholders in Audible's success, so we've empowered you to be shareholders as well. Plus, it pays to be part of the Amazon family. Your contributions to the company count and we want you to think like owners.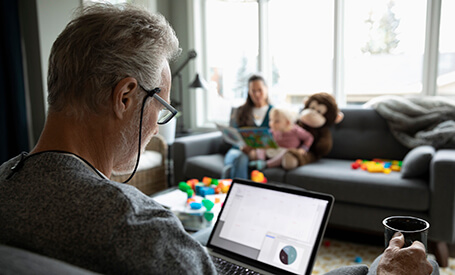 401(k) & Equivalent
Our work is future-driven. We want you to look ahead to your future, too. We'll even match your 401(k). Contribute on a pre-tax or Roth basis via payroll deduction, then choose investments that best fit your goals for your next chapter in life.
Health & Wellness
Health, Dental, & Vision Insurance
Under the weather? Call our 24/7 medical advice line for care anytime, anywhere. We've got you covered with medical, prescription, dental, and vision plans.
Wellness Reimbursement
Let our wellness reimbursement spot you, from morning meditations to evenings on the elliptical. Because your well-being is priceless.
Life & Disability Insurance
We recognize that financial security should not be a primary concern in times of critical care and bereavement. Life and disability insurance can offer you and your family peace of mind.
Paid & Volunteer Time Off
We care about our people, both at work and in our communities. We want you to hit the refresh button with accrued paid time off (PTO) and connect with our neighbors and communities through time to pursue volunteer work.
Onsite Fitness Center
Seated desk stretches only go so far. In select Audible hubs, our onsite gym is here to help you stay energized and put those miles in on our treadmill, not your gym commute.
Employee Assistance Program (EAP)
We're here to listen. Our Employee Assistance Program (EAP) helps make work-life balance a reality with resources, referrals, and in-person counseling sessions.
Parental Leave: Maternity & Paternity Benefits
We offer pre- and post-partum maternity leave, fully paid parental leave, and a program to help parents transition back to a full-time schedule to experience an ambitious career and a healthy family life.
Adoption Assistance & Fertility
Your family is a priority. Our adoption assistance program supports families with legal and travel expenses, and we've partnered with Progyny for personalized fertility support and access to the largest national network of fertility specialists.
Tax Savings Account
Pay for eligible expenses with pre-tax dollars in health savings or dependent care flex-spending accounts for higher take-home pay.
Professional Development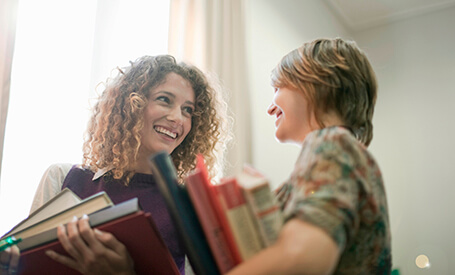 Tuition Reimbursement
When you're surrounded by innovation and inspiring colleagues, you can't help wanting to learn more. We encourage employees to build on skills, advance in their fields, and pursue their passions through our tuition reimbursement programs.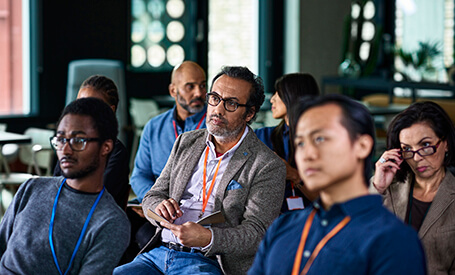 Management & Leadership Training
A great manager can inspire an entire team. We understand that there are many different paths to management and leadership, which is why we offer training to ensure that you and your new team are set up for success.
Learning & Development
There's always room for growth; what better place to start than on the job? In their roles, our employees have the opportunity to grow their skills while continuing to make progress on their career journey.
Professional Development Reimbursement
We encourage employees to network and pursue inspiration without hesitation. Whether you're a panelist or it's your first conference, we will reimburse you for events you attend for professional development.
Social & Sports Clubs
Connect with colleagues that have similar interests! From knitting and meditation to Brazilian Jujitsu and soccer. We've got you covered.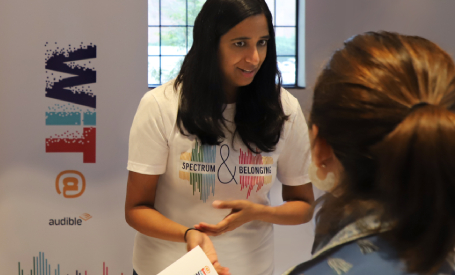 Employee Led Impact Groups
Your experiences and identity shape your work. We strive to empower a sense of belonging with an inclusive environment, including our growing impact groups like Audible Pride, Audible Women in Technology (WiT), Black Employee Network (BEN), Woman@Audible, Moms@Audible, and Unidos@Audible, to celebrate you for you. Learn more about our commitment to diversity.
Hub+Home Hybrid Workplace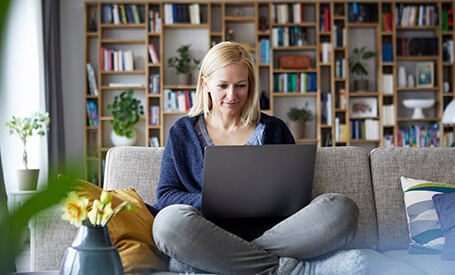 Flexible Work - Hub+Home
Our Hub+Home hybrid model provides flexibility to do our best work in the way that works best - maximizing the benefits of both work from hub and home. We promote flexibility in how we work, when we work, and from where we work. We also offer the opportunity to work fully remote for up to four weeks per year from anywhere within your assigned hub country.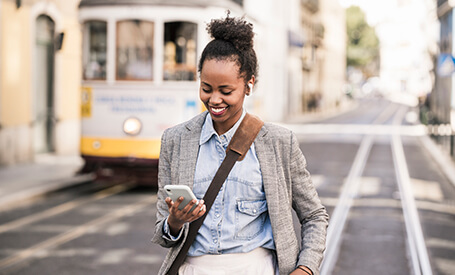 Commuter Assistance Plans
We offer commuter solutions for every lifestyle. To help offset the cost of commuting, we offer free parking or a transit subsidy towards your actual incured work commute expenses.
Accessible via Public Transportation
However you commute we can help with public transit subsidies and shuttles, free employee parking, and bike-friendly spaces. All you need to worry about is which audiobook you're listening to on the way.
Commuter Shuttle (Newark)
Accessibility matters and our commuter shuttle is here to help you with pick-up and drop-off services from nearby Newark Penn Station.
Bike Parking
Fitting your bike into the elevator – or worse, carrying it up the stairs – isn't the most efficient way to start your workday. That's why we offer bike parking onsite.
Live Local (Newark)
Our Newark Now! "Live Local" Incentive Program provides all Audible employees living in Newark with a $500 a month subsidy toward their housing expenses.
Catered Meals & Snacks
Whether you believe breakfast is the most important meal of the day or you need to refuel in the afternoon, we have what you're craving. Save time and money at some of our locations with either an onsite chef cooking up healthy, delicious meals or food brought right to the office. It doesn't get any easier than that.
Audible's People Principles celebrate who we are and where we've been, and guide the way we work shoulder to shoulder to enhance the lives of our millions of customers around the world. They reflect and apply to everyone who works at Audible—the entrepreneurs and operators, the dreamers and the doers, those who have worked here for 20 years and those who have arrived in the past few weeks and months.