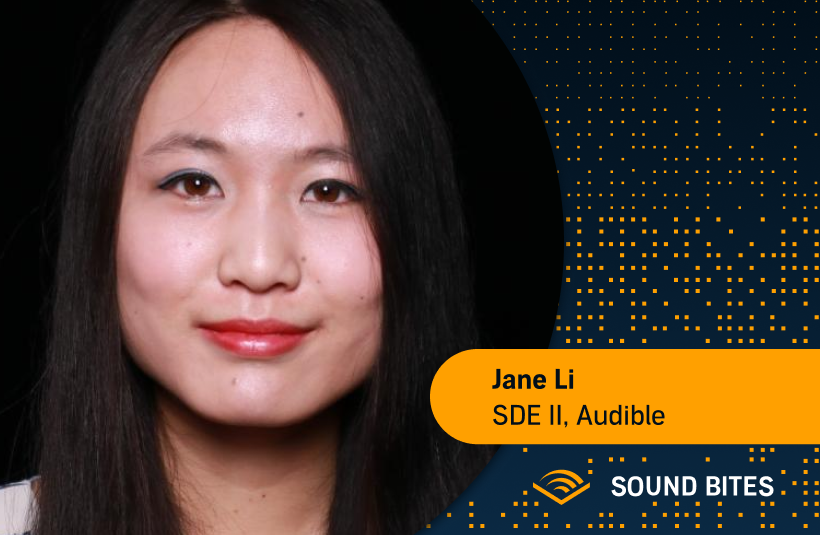 Audible Sound Bites with Jane Li
Jane Li is an SDE II leading a team in the front-end build of Audible's web experiences. Working remotely from Utah, where her husband is in medical school, Jane works closely with our product and design teams to implement features that give our customers the best experience. Even fully remote, Jane is able to participate in Audible's culture of caring by mentoring other engineers, as she was mentored when she first started with us.
How does your job contribute to Audible's overall mission to surprise and delight listeners around the world?
As the tech lead for Audible's web front-end team, I work to improve the Audible web experience. In addition to contributing to the development of front-end features myself, I help manage projects and workload for my team, and mentor other engineers so that we all can be effective at delivering features that will surprise and delight listeners.
Can you share a bit about your career journey at Audible?
I have been at Audible for over six and a half years. I started as an SDE I, as a full-stack developer on Audible web in the discovery space and then was promoted after three years to an SDE II. I gradually gravitated more towards front-end development, and after a year, I became the tech lead of a newly formed team devoted to web front-end.
How do you leverage our People Principles in your role?
In my day-to-day work, I often have to balance requirements and asks from different stakeholders, such as the product and design teams, in order to implement front-end features for customers on time. I typically leverage "Articulate the Possible and Move Fast to Make It Real," "Imagine and Invent Before They Ask," and "Be Customer Obsessed" when coordinating with stakeholders.
Can you share about a time when you felt that someone practiced "Activate Caring" towards you?
I have had many mentors over my career who helped me grow and succeed. When I started, my team had two tech leads who helped me quickly ramp up and be productive. I also had a manager who encouraged me to take more of a leadership role, resulting in me becoming a tech lead. I'm committed to continuing the culture of mentorship that supported me in my own career journey.
Other than the people, what do you love most about the culture here?
I appreciate that Audible does try to do right by its employees. Being able to transition to be fully remote was wonderful, as I didn't have to choose between my job and my family when my husband had to move to Utah for medical school.
Audible offers unmatched work-life balance. My job is interesting, and I get to work on a product that brings people joy, while still spending an appropriate amount of time on my family and personal life.
What's one quality people interested in working in tech need to be successful at Audible?
I find a capacity to learn is invaluable. The world of technology is always changing, there's always a new tool to test, or something new that you can learn. I keep up-to-date with the latest happenings, and I would encourage anyone who wants to build a meaningful career in tech to stay engaged and curious.
Lightning round
Favorite genre? Speculative fiction
What hub are you aligned to? I am fully remote! I was previously aligned to the Newark hub.
Listening from a speaker or in your headphones? Headphones
Morning person or night owl? Night owl
Favorite snack? Berry Fool
What are you listening to right now?
My current listen is The Faceless Old Woman Who Secretly Lives in Your Home. I enjoy the Welcome to Nightvale podcast and love this offshoot of it.
Audible's People Principles celebrate who we are and where we've been, and guide the way we work shoulder to shoulder to enhance the lives of our millions of customers around the world. They reflect and apply to everyone who works at Audible—the entrepreneurs and operators, the dreamers and the doers, those who have worked here for 20 years and those who have arrived in the past few weeks and months.