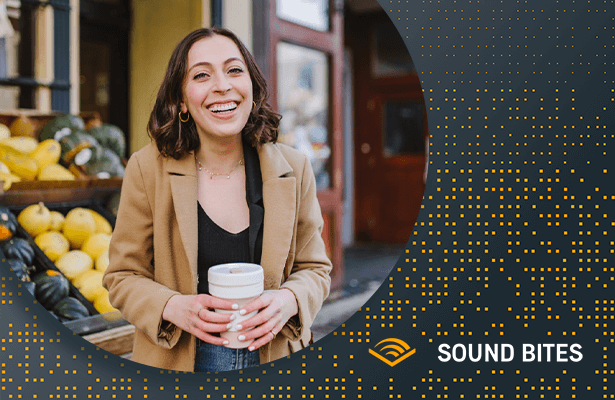 Audible Sound Bites with Sophia Gottfried
Sophia Gottfried is on our Internal Communications team within Global Corporate Affairs. She uses her writing background to keep all of us at Audible connected with stories about employees and teams, initiatives, exciting new product and content launches, and more. She formerly served on the board of our Women@Audible impact group. Based in our Los Angeles hub, Sophia shared what she loves about working in communications at Audible.
What gets you excited to come to work in the morning?
I love that Audible's mission is centered around storytelling—there will never be enough time to listen to all the titles we're coming out with! Also, I genuinely look forward to working with my colleagues. There are so many smart, kind, interesting people at Audible and I feel lucky to have connected with so many of them during my time here.
What's special or unique about your team?
The internal communications team truly touches every part of the business. We work with leaders from all the different organizations and teams and source stories to share with our thousands of employees. I love interviewing employees about all the amazing things they're working on in and out of the office, from what it's like to manage interns, to what it's like to have worked at Audible for a quarter century, to directing celebrities in the recording booth, to answering customer calls, to how we use listener feedback to guide our technology, to what a day is like in our many global offices I haven't yet visited. I'm always learning something new and connecting with new people.
What are some projects you've worked on that you're proud of?
I think my team would agree with me that, although it was an incredibly difficult time, keeping all of our colleagues informed and united during the worst days of Covid-19 was really impactful. And on a happier note, I'm proud to have helped facilitate communications during the opening of our new Los Angeles office—which I'm now based out of!
What made you choose to work at Audible, what made you want to stay?
I chose to work at Audible to broaden my skills as a writer and communicator—it was a bit of a career pivot and challenge. I've stayed because the people are so great. My colleagues, especially my managers, have encouraged me to pursue all my interests, challenged me to grow, and supported me through personal highs and lows.
Which employee benefits have especially made your experience great?
I really value that Audible encourages us to get inspired by looking outward, from getting involved in our communities to taking in different forms of art and culture. For example, I've used our amazing tuition reimbursement benefit to take courses in audio production and creative writing—it's helped me bring fresh ideas and approaches to my work. And it's just fun to have the opportunity to always keep learning. There's also a lot of support to bring an idea to life here. I love seeing colleagues work on passion projects outside their day-to-day work, like an employee penning an Audible Original or starting an impact group. For me, that's been everything from serving on the Women@Audible board to being a second set of eyes on scripts for potential audio projects.
What's one quality people interested in working in communications need to be successful here?
My curiosity has served me well at Audible. You never know where asking about what someone's working on, or just how their day is going, will lead.
Can you share the best piece of advice you've received or given about remaining productive in a hybrid work environment?
Take breaks—it will make you more productive, not less! Make time to eat, connect with colleagues, and get some movement in. If you can't take a break, change locations, even if it's just a different corner of your space. A change in perspective can be everything.
What's your favorite listen?
It's so tough to choose, but I think my all-time favorite listen is Maybe You Should Talk to Someone by Lori Gottlieb. When someone asks me for an Audible recommendation after finding out where I work (which is often!), I often suggest this one—it'll make you laugh, cry, and reflect. I also recently listened to Some People Have Real Problems, an Audible Original by Brit Bennett. She's one of my favorite contemporary authors, so it was really exciting to hear an audio-first piece from her.
Audible's People Principles celebrate who we are and where we've been, and guide the way we work shoulder to shoulder to enhance the lives of our millions of customers around the world. They reflect and apply to everyone who works at Audible—the entrepreneurs and operators, the dreamers and the doers, those who have worked here for 25 years and those who have arrived in the past few weeks and months.
View all Our People Principles