Our Workforce Data
Representation matters. We track the representation of women and underrepresented communities because we know that diversity helps us deepen our culture of caring and the impact we are able to make both within the walls of Audible and outside them.
Spectrum and Belonging (S&B) is our distinctive approach to Diversity and Inclusion that honors our differences, and what it means to be truly heard. As a company with a mission to mean more than what we do alone, we are committed to building and sustaining a diverse, equitable, and inclusive culture of respect that fosters connection. From this culture, we seek to empower, engage, and inspire our colleagues, creators, listeners, and communities.
The way we work to create equity outside our walls is by elevating a wide spectrum of voices in our content, through initiatives like Hear My Story, and by innovating solutions that drive positive impact in the cities we call home. We're driven by the belief that companies can have hearts and souls and missions that transcend financial success.
You can see our progress on this journey over the past three years, with clear qualitative and quantitative data based on self-identification by our employees.
Audible Workforce (All Levels)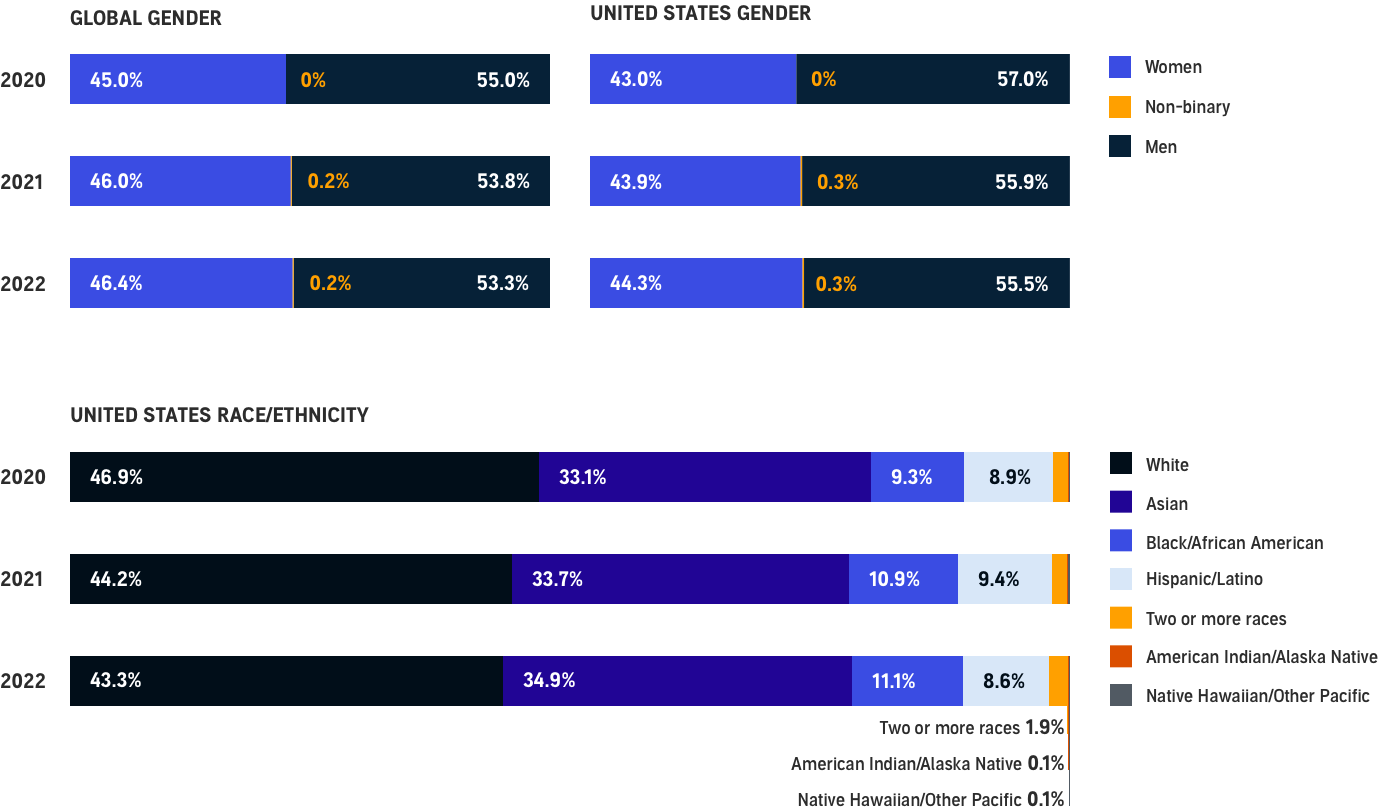 People Managers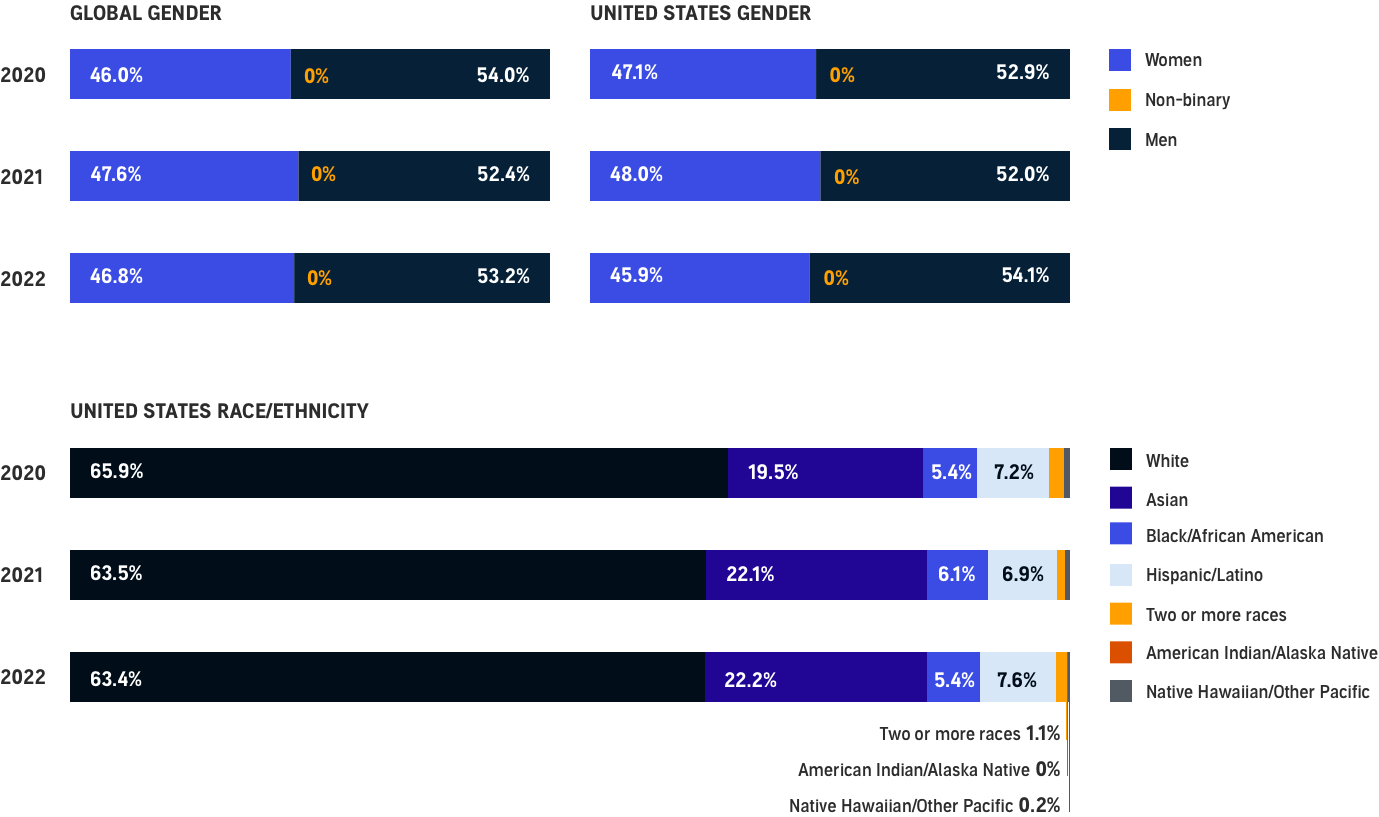 Corporate Employees (L4 - L6)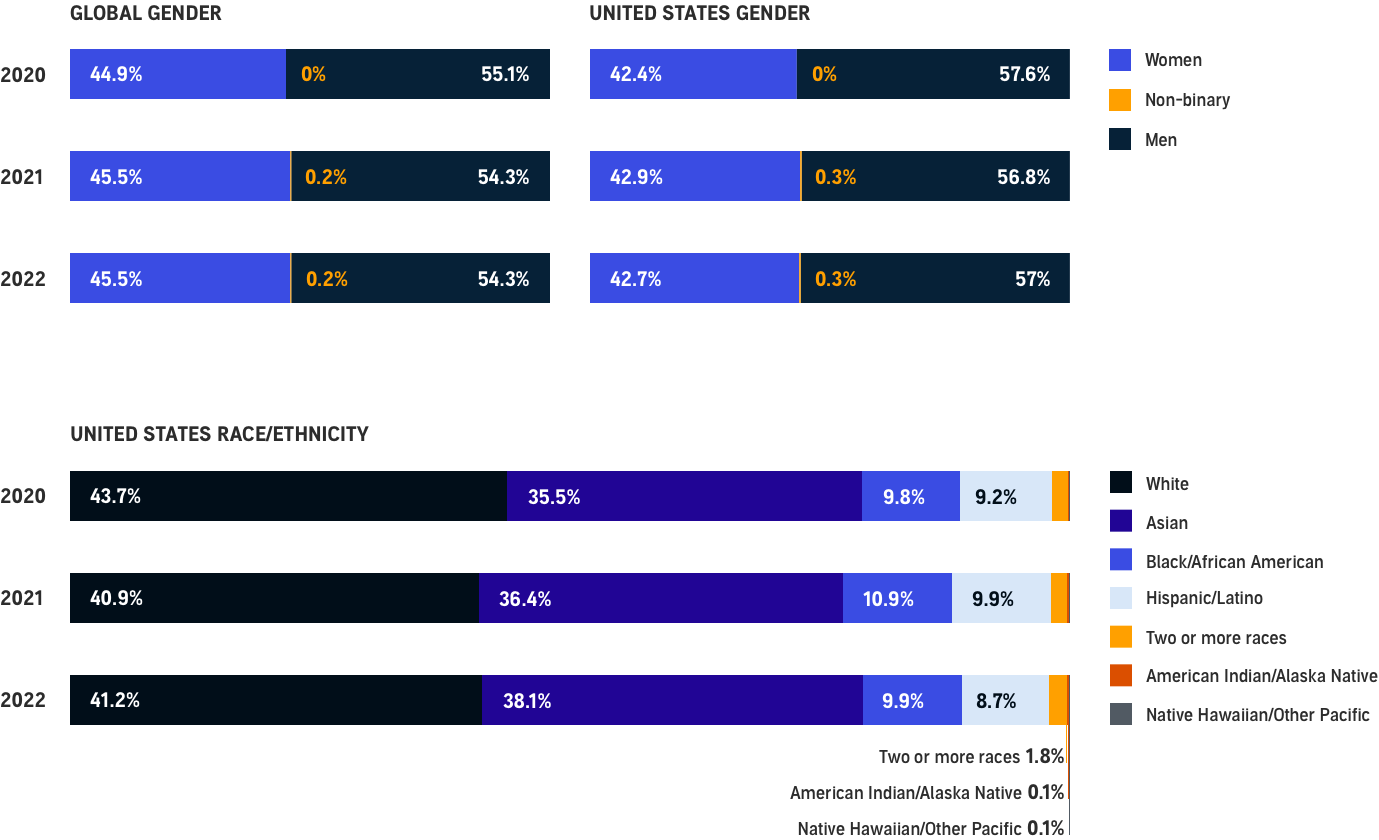 Senior Leaders (L7+)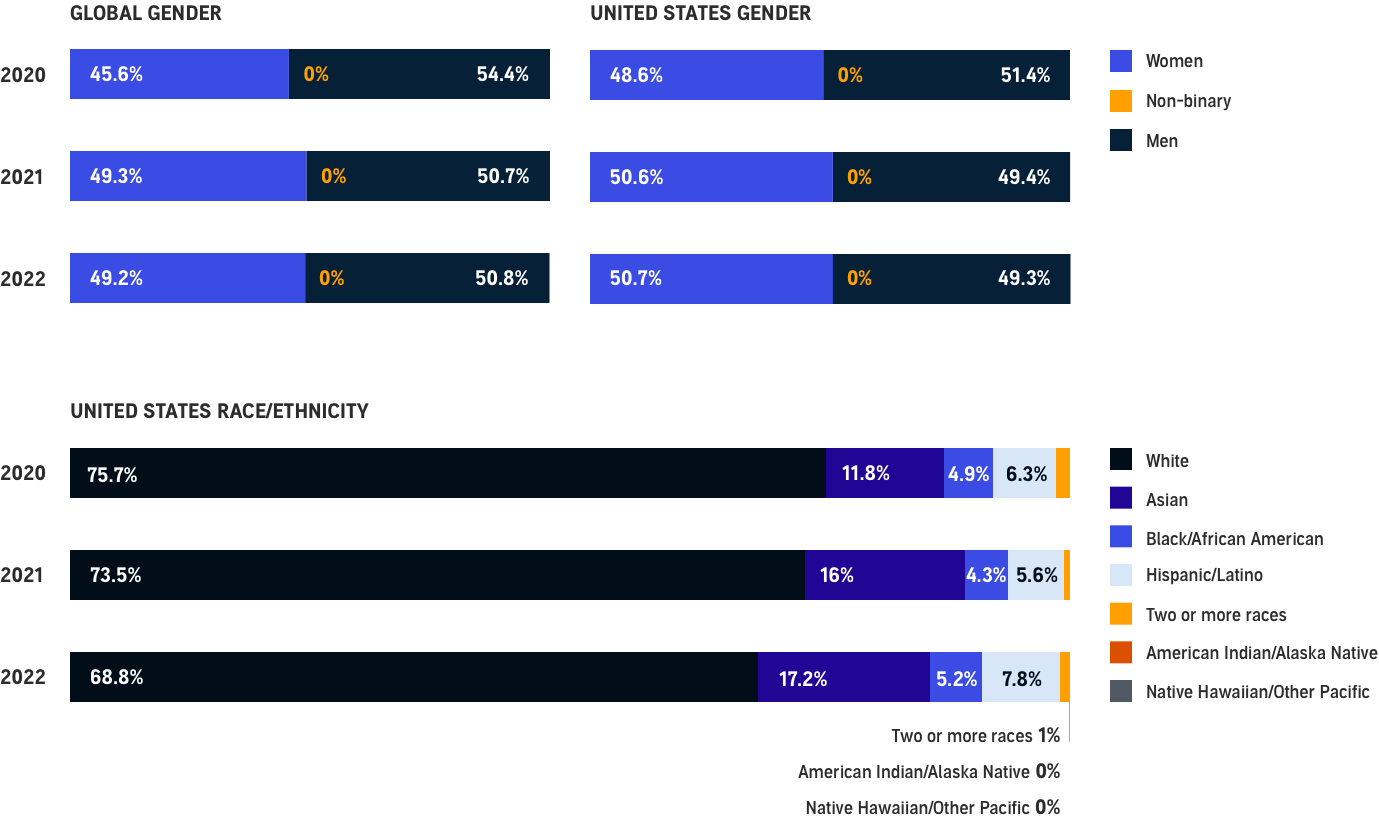 Our actions in recent years
We're constantly adding and refining programs, policies, and initiatives designed to enhance Spectrum and Belonging at Audible. Some recent examples include:
Returnship: Our "Next Chapter" Returnship Program actively sources candidates who have paused careers for a year or more for caregiving, offering paid full-time internships over a 16-week period with the possibility of full-time employment upon completion. The program was highlighted by Fast Company as part of its Best Workplaces for Innovators 2022.
Apprentice Program: The Apprentice Program creates a path for professionals from primarily under-represented groups to pursue careers in software engineering. Through this program, apprentices gain both foundational training as well as the on-the-job training within Audible teams.
Customer Care to Quality Assurance Technician Program: A formal, 16-week rotation program that creates a path for customer care representatives to move into tech roles. Frontline workers use their deep customer and product knowledge to work as quality assurance technicians (QATs), helping software development engineers test and debug features, and may choose to pursue QAT roles when the rotation ends.
DEI-focused Training Courses: Customized learning programs that foster inclusion and help leaders create safe team dynamics.
Hub+Home: As the Covid-19 pandemic changed the lives of everyone across the globe, we recognized the need to imagine a new way of working to best fit the needs of our employees and customers. Our Hub+Home hybrid workplace model gives employees flexibility between gathering in a common office space (work from hub) and remote work (work from home).
Well-being: We are deeply committed to the mental health of our employees and continue to keep our colleagues' well-being at the forefront of everything we do. In addition to our Employee Assistance Program, we introduced a wellness reimbursement and wellness days to unplug and prioritize health.
Impact Groups: Our employee-led Impact Groups create spaces for us to see ourselves reflected and celebrated for who we are, inspiring us to express our true selves. Groups include Asians@, audABLE@, Black Employee Network (BEN)@, Caregivers@, PRIDE@Audible, Unidos@, Women@ and Women in Tech (WiT)@.
Note: Employees included in these data are those for whom gender, race, or ethnicity has been identified.
Audible's People Principles celebrate who we are and where we've been, and guide the way we work shoulder to shoulder to enhance the lives of our millions of customers around the world. They reflect and apply to everyone who works at Audible—the entrepreneurs and operators, the dreamers and the doers, those who have worked here for 20 years and those who have arrived in the past few weeks and months.