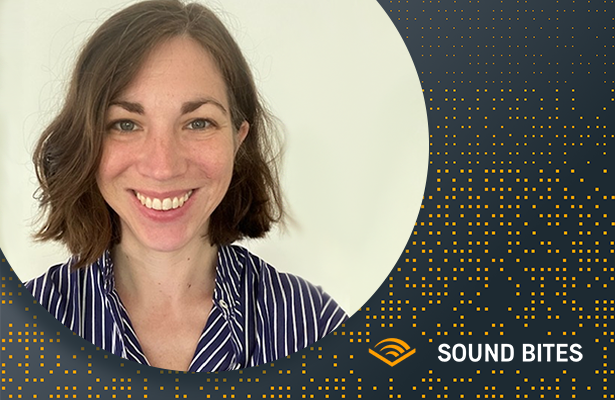 Audible Sound Bites with Marie Pietzcker
Marie Pietzcker is Director of Campaigns for Audible's services in Europe, working on the EU Brand and Content Marketing team. Based in Berlin, Marie manages a relatively new team made up of people from four different European countries (Germany, France, Italy, and Spain), which allows them to experience each other's cultures and languages, and ensure that Audible's offering is equally relevant and exciting internationally and across local marketplaces. Here we asked Marie to describe her team and what they do, plus, share career advice for women.
What gets you excited to come to work in the morning?
I love entertainment. That's where my heart beats. Having the chance to make a great story successful, ensuring that awesome content is being listened to by many people, in order to give them a moment to escape, a moment of joy, a moment of learning something new or simply diving into another world.
What's something unique about your team?
We are split across four countries, coming from many different cultural backgrounds and speaking a multitude of languages. This brings diverse habits, experiences, knowledge, ways of working, and communication styles to the group, which let us grow, broaden each other's perspectives and pushes us out of our comfort zone. Despite all of that, we all have the same passion for audio and Audible, and a good sense of humor.
What is your main goal or focus in your role?
As a manager, I want to make sure my team feels empowered and valued at work, so they can work collaboratively together in a fun, reliable, honest, and trusting environment. On the business side, my team and I are focused on creating inspiring campaigns for the EU marketplaces that engage our customers, encourage new listeners to try our product and further strengthen Audible as a leader in audio entertainment. This is always our focus, whether it's a highly localized title for one of our marketplaces or an international blockbuster.
That being said, we carefully take local nuances into account; the cultural differences that make each of the marketplaces we are operating in unique. I'm very thankful to have talented colleagues on the team who are based in Madrid, Paris, Milan, and Berlin, who drive our campaign communications with their local expertise.

Other than the people, what do you love most about the culture here?
The culture at Audible in Berlin is open-minded, supportive, and transparent. Audible allows me to be myself at work, and I feel accepted as the person that I am, with all my strengths and weaknesses. I experience it as a culture that allows me to fail and supports me to grow as a person and as a manager.
How do you find balance with your work and your life?
Being a working mum of two little boys (5 and 3 years old) I sometimes need to accommodate work and personal tasks in a flexible way due to unplanned kid emergencies. The ability to work part time combined with the Audible Hub + Home hybrid work model, made it way less challenging for me to align work and personal life. It has enabled me to meet expectations in both areas without being stressed and under pressure all the time.
What made you choose to work at Audible, what made you want to stay?
Before joining Audible more than six years ago, I worked in the film industry where, in many cases, decisions were based on feelings and personal taste instead of being informed by customer preferences and insights. "You don't know anything until the content launches" was the guidance, which was an excuse for risky business decisions. Audible allows me to combine my love for entertainment and my content marketing expertise with data and a customer-centric approach.
At the time, Audible DE was switching focus from being primarily a content distributer to creating our own original content. It's been thrilling to be part of that journey right from the beginning by developing the first brand campaign for Audible DE, launching the first DE original content campaign, developing an integrated content and marketing strategy, and testing, to mention just a few. Audible's openness to pivot, adapt and evolve gives me plenty of new opportunities to learn and grow every day.

What advice would you have for a woman that admires your career journey?
Believe in your personal power, knowledge, and skills. Don't be influenced by negative experiences others might have had. You can set a different example and drive change or empower other women to follow your path if they want to. "Having it all"—a successful career and a personal life, in whichever way is important for you—is possible. I'm not saying that it's easy; it's not. Making it work takes a lot of energy, eagerness, organization, and, most importantly, a supportive environment that you can count on.
What have you listened to and loved recently?
Kebekus—was warum wie war, an Audible Original from two famous German comedian siblings, David and Carolin Kebekus. In each episode, the duo explore one year of German history along with their personal memories, starting with David's birth in 1984 (which is also the year I was born). Listening to this podcast is like a journey through my own childhood in Germany—letting me remember family and the historical and political events that impacted my life. Plus, it's so much fun to listen to their conversations!
Audible's People Principles celebrate who we are and where we've been, and guide the way we work shoulder to shoulder to enhance the lives of our millions of customers around the world. They reflect and apply to everyone who works at Audible—the entrepreneurs and operators, the dreamers and the doers, those who have worked here for 25 years and those who have arrived in the past few weeks and months.
View all Our People Principles