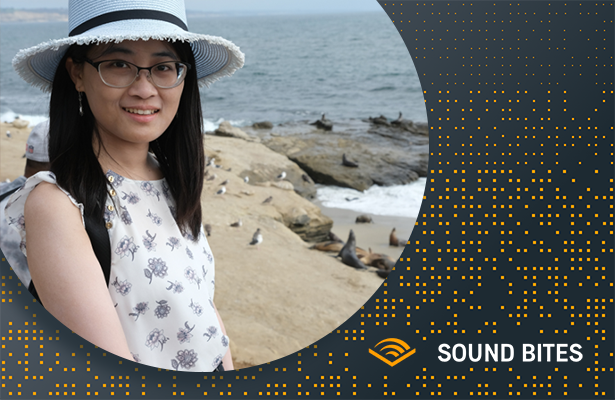 Audible Sound Bites with Yuchen Xie
Yuchen Xie is a Data Scientist on our Global Insights and Data Science team, helping Audible tailor content recommendations to listeners based on what they've looked for and loved. Working with advanced technologies and driven by customer obsession, she collaborates with several teams across our organization to keep improving upon the ways we connect members with their favorite content.
What does your role as a data scientist entail?
My main focus is developing content-recommendation strategies tailored to customers' interests, using both rule-based approaches and advanced deep-learning models, and applying state-of-the-art technology.
The role requires various skillsets including model training, data analysis and building end-to-end data pipelines that deliver business insights.
I have the opportunity to work on cross-functional projects and collaborate with colleagues from different teams including engineering, product, analytics and marketing. I not only focus on model development, but also participate in project design, testing plans, result discussion and future improvements. The multidisciplinary environment has enabled me to have a better understanding of business strategies and therefore align my expertise with business objectives.
How do you exemplify the People Principles in your day to day work?
I keep updated with the latest innovations and research in machine learning and AI fields. In addition, I'm customer-obsessed in my daily work. My main goal is to develop personalized recommendation engines that help customers explore a diverse collection of audiobooks based on their specific interests. When customers have suggestions, I always move fast to provide solutions.
What are some of your favorite work benefits at Audible?
The free lunch with multiple menu options can help you reboot energy and keep a healthy diet. The snacks, which supplement brain glucose supply, as well as coffee machines on every floor are necessities for brainstorming sessions. The commuter benefit [transit subsidy] and the shuttle bus running between Newark Penn Station and our building also make it much easier for us to work in the hub.
What's the best advice you've received about being productive while working in a hybrid environment?
Separate work from home and have a fixed schedule for both work and regular breaks. It is especially important to eliminate digital distractions: I usually open only work-related content during working hours and disable notifications and alerts from unrelated websites. Social media apps remain logged out until I've finished work for the day.
What's one quality people interested in working in data science need to be successful here?
Be innovative. Many data science projects and problems we work on at Audible are challenging. It's important to have innovative ideas and move fast to make it real. We need to be flexible with using all available resources and technologies, and reach out to cross-functional teams for support.
What's your favorite listen?
Steve Jobs by Walter Isaacson. This biography has presented a riveting story of Steve Jobs and how he integrated art with technology in product development. The author has highlighted Jobs' innovation, passion for perfection and compulsion for control, which shaped his leadership, fueled revolution in multiple industries and ultimately affected his own decisions when facing disease.
Audible's People Principles celebrate who we are and where we've been, and guide the way we work shoulder to shoulder to enhance the lives of our millions of customers around the world. They reflect and apply to everyone who works at Audible—the entrepreneurs and operators, the dreamers and the doers, those who have worked here for 25 years and those who have arrived in the past few weeks and months.
View all Our People Principles