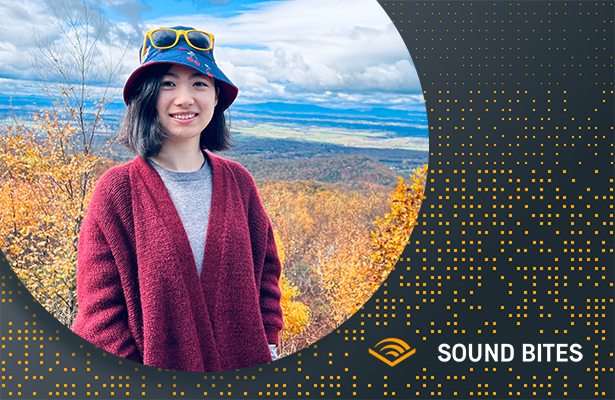 Audible Sound Bites with Sue Qiu
Through stories, our listeners escape to different worlds, travel to far off countries, and become completely immersed in exciting adventures of all kinds. None of these unique experiences would be possible without the hard work and knowledge provided by our Global Insight and Data Science (GIDS) team members like Zhenyu (Sue) Qiu, a Competitive Intel Analyst. Sue recently sat down with us to discuss her work, career journey and what she loves about Audible's culture and mission.
What gets you excited to come to work in the morning?
The scale of my work is exciting! I work in three different time zones, but I never feel rushed in the morning due to the flexibility and support that are provided by my team and Audible. I have enough time to enjoy a great breakfast and even take a walk before I start working. Of course, setting a clear plan for the day also motivates me, and sets me up for success!
What is your biggest source of inspiration?
My role focuses on evaluating Audible's position in the industry via data analysis and providing insights to stakeholders from strategy and international markets. When I first learned of the position, I was very interested in the use cases and data leveraged behind it. We work to analyze data holistically, painting a full picture of our industry landscape from multiple perspectives. My role teaches me to find the invisible truths revealed by data. I really enjoy it.
What's it like to work on the Business Insights team at Audible?
Audible has the whole GIDS team under one umbrella, Data Scientists, Researchers, Analysts and Economists to contribute to our mission of unleashing the power of the spoken word. For instance, I am on the Content Analytics team and one of my major projects is to help stakeholders understand what content resonates with our listeners. My role is very cross functional, with many opportunities to interact with and learn from people of different backgrounds and experiences. Furthermore, half of my team members are located in Berlin, which provides more chances to learn about non-US markets and to get connected with international stakeholders while we still report to the US team.
What do you love most about the culture here?
Audible is a very inclusive place to work and our People Principle "Activate Caring" is expressed both inside and outside our offices. I have participated in the Future Leaders Program, where I had the opportunity to mentor Newark high school students for one semester and was able to see how my intern was inspired during her time at Audible. I was thrilled to see that she was able to cultivate skills in data analytics, and that she decided to continue the internship with us through her following year in college. When the internship was completed, I saw growth in both of us. The Activate Caring culture at Audible benefits both employees and surrounding communities in which we operate.
How has Audible supported your career journey?
I started university with a major in finance, but later changed direction to the data science/analytics field out of interest. When I studied for my master course and participated in real world projects of data analytics, I deeply realized that everything is becoming more data-driven irreversibly and that I would like to devote myself into this area.
When I got my first full-time job as a Business Intelligence Analyst at Audible, they provided me with many learning resources. For example, Machine Learning University is a great platform where one can accelerate learning in data science that I had access to through Audible. They also provide lots of opportunities to network and learn from other technologists at conferences like the Grace Hopper Conference. These resources reinforce my professional knowledge and expand more possibilities in my career.
What advice would you have for someone who is inspired by your career journey?
The thing that drew myself and many of my colleagues to Audible is that we all had great experiences as listeners! I would encourage any candidate considering us to try the product and do some research about Audible by visiting our website or other social media to think about if they and the culture of Audible, including the People Principles, are well matched.
What is your current Audible listen?
My current listen is Klara and the Sun, which was once recommended by the GIDS Audible Book Club. Since I have great interest in Sci-Fi and my work is also "intelligence" related, AI-topic novels have always caught my eye and made me think of what the future world could be with the technology innovation. Also, the narrator is good at performing multiple characters which was very impressive.
Audible's People Principles celebrate who we are and where we've been, and guide the way we work shoulder to shoulder to enhance the lives of our millions of customers around the world. They reflect and apply to everyone who works at Audible—the entrepreneurs and operators, the dreamers and the doers, those who have worked here for 20 years and those who have arrived in the past few weeks and months.