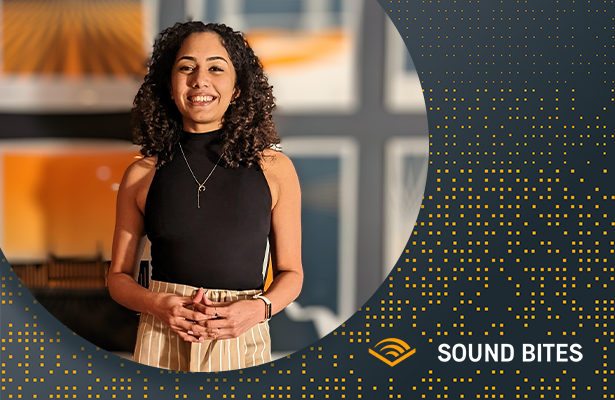 Audible Sound Bites with Sachi Angle
Sachi Angle is a Product Manager working on a tech team that's focused on the intersection of AI, data and platform. She's excited about the possibilities that the rapidly evolving field of AI has to offer our customers as her team develops new features to make their Audible experience even better.
WHAT GETS YOU EXCITED TO COME TO WORK IN THE MORNING?
AI has been evolving rapidly, and Audible encourages us to look at the research and be creative when thinking of what we can build for our customers. AI can be used to deeply understand the content we're creating.
Additionally, with developments in the tech world, features that customers want, and that weren't possible a couple of months ago, may now be possible with new advancements in technology. This kind of environment requires us to be constantly innovating, and I find this very exciting.
WHAT INSPIRES YOUR WORK AS A PRODUCT MANAGER?
The people. I am at the beginning of my product management career journey, and I am so lucky to be working with people who give me the space to learn, while also giving me the responsibilities and opportunities that come with owning a big product. I learn something from everyone I work with, every day.
One of my biggest inspirations has been The Life-Saving Dot. To help women in rural India meet their iodine needs, a patch was developed in the shape of a bindi, a head accessory worn by these women, without fail, every day of their lives. The simplicity and elegance of such a solution, particularly how well it fits into a customer's life without requiring them to change their behavior, inspires the type of products I hope to build one day.
WHAT DO YOU LOVE ABOUT WORKING AT AUDIBLE?
Work at Audible is constantly challenging and exciting, but there's also a lot of importance given to employees' mental health and wellness. We're always encouraged to maintain work-life balance, and there are quarterly wellness days available to just give yourself a break. I really appreciate that.
WHAT ADVICE WOULD YOU HAVE FOR A CANDIDATE CONSIDERING AUDIBLE?
During the interviews, it's important to elaborate on your thinking process. I had interviewed with Audible for a Software Development role in 2020, and then internally for Product Management in 2022. For both interviews, it helped that I was calm and relaxed throughout, so I could clearly communicate my style of thinking and problem-solving.
WHAT IS YOUR FAVORITE LISTEN?
I really enjoyed Heads Will Roll. It's random, chaotic, and funny, and it was such a great listen! Because of this title, I've been listening to a lot more fiction.
Audible's People Principles celebrate who we are and where we've been, and guide the way we work shoulder to shoulder to enhance the lives of our millions of customers around the world. They reflect and apply to everyone who works at Audible—the entrepreneurs and operators, the dreamers and the doers, those who have worked here for 25 years and those who have arrived in the past few weeks and months.
View all Our People Principles