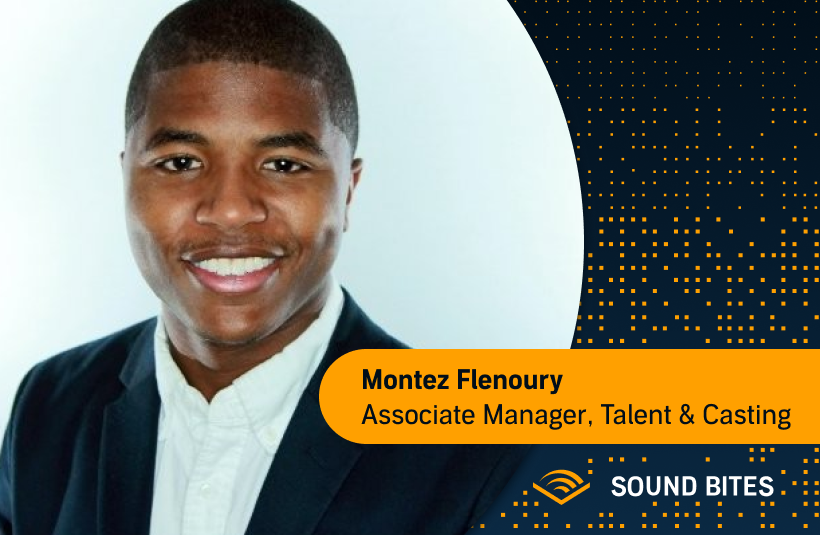 Audible Sound Bites with Montez Flenoury
Montez Flenoury is a talent manager for Audible's talent and casting department. He joined our company just over two years ago to help ensure that we cast some of the most exciting talent out there, and then make sure they have a best-in-class experience working with us. He gets to meet and work closely with celebrities and creatives—and sometimes, their families! Read on to learn more about the life of a talent manager at Audible.
What does a talent manager do at Audible?
My main goal is to ensure our talent and partners have an exceptional experience with Audible. As the liaison between the celebrity partners and our internals, my primary focus is assuring the talent's needs and requests are met, and that they have a successful marketing campaign from start to finish. We're also responsible for casting exciting A-List talent for Audible Originals.
Why did you choose to work at Audible, what makes you want to stay?
As an active Audible listener, I chose to work at Audible because of the content. We have such a rich and diverse collection of original titles, and I wanted to be a part of a forward-thinking company with content that I enjoyed. After joining the company, I realized Audible truly champions innovation, and is committed to creating new and exciting original programming for our listeners to enjoy.
Do you remember the first thing you listened to on Audible?
My first Audible listen was Barack Obama's A Promised Land. I'm a huge fan of our former POTUS and was beyond excited to listen to his memoir. He's also an incredible orator, so listening to his voice only made the experience so much greater.
One of our People Principles is "study and draw inspiration from the culture and technology." How does this inspire your work?
As a talent manager, it's imperative that I stay current with all TV, film, and music, and in pop culture, overall. Through reading entertainment trade articles, following social media trends, and consuming various types of media, I'm able to draw inspiration from the culture to aide in casting the talent we select for our projects. We also work to ensure we're selecting the buzziest, yet most appropriate talent for our projects.
What's some meaningful customer feedback you've received?
For our marketing campaign for DeVon Franklin's title, It Takes A Woman, we scheduled a shoot that featured DeVon, his mother, and four aunts. In my role, I had to coordinate travel, accommodations, styling, and glam for all participants. Once the shoot was complete, I received a note from DeVon's manager thanking me for the white-glove experience. Each person truly enjoyed their time with Audible and was so appreciative of my help!
Other than the people, what do you love most about the culture here?
One thing I love about Audible's company culture is that they genuinely welcome all employees to share their thoughts and ideas. Our leadership has worked to create an inclusive and open space for team members to offer suggestions or provide feedback about company policies and processes, and they are genuinely receptive. They also encourage employees to take risks with new projects, titles, and experiences.
What advice would you have for a candidate considering Audible?
Take advantage of every opportunity Audible offers. Both internally and externally, Audible truly invests in their employees through offering leadership and career development, employee resource groups, and community service opportunities. Cultivating positive and enriching community culture is a priority for Audible, and it truly shows.
Lightning round
Favorite Genre? Suspense
What hub are you aligned to? Newark.
Listening from a speaker or in your headphones? Headphones, definitely.
Morning person or night owl? Morning person.
Favorite snack? Popcorn!
What are you listening to currently?
My favorite listen right now is Brandy's A New Moon from our Words + Music series. As a long-time Brandy fan, I truly enjoyed her candor and openness sharing her journey throughout her music career. Also, the music was fantastic!
Audible's People Principles celebrate who we are and where we've been, and guide the way we work shoulder to shoulder to enhance the lives of our millions of customers around the world. They reflect and apply to everyone who works at Audible—the entrepreneurs and operators, the dreamers and the doers, those who have worked here for 20 years and those who have arrived in the past few weeks and months.