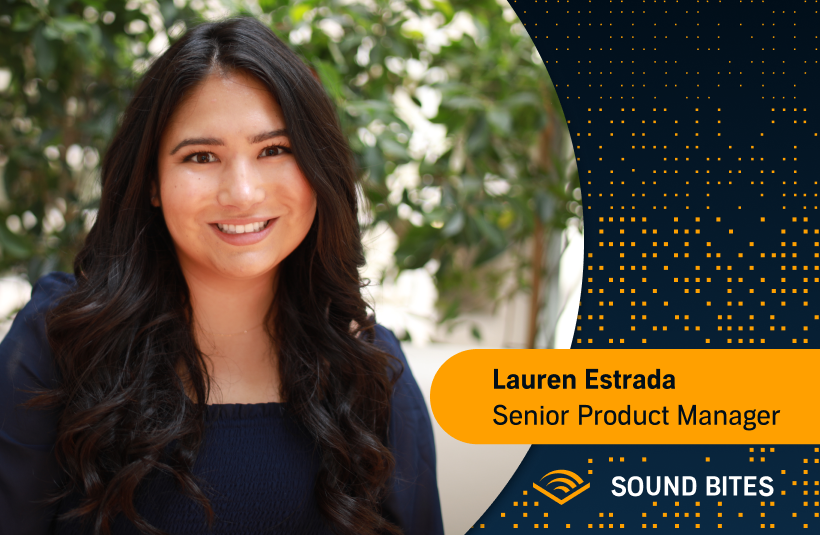 Audible Sound Bites with Lauren Estrada
Lauren Estrada is a Senior Product Manager on Audible's Global Expansion and Growth team. She joined us as a product manager in 2019 and was promoted in 2022 to help lead a variety of initiatives that serve the global team's mission: to accelerate Audible's global growth by delivering exceptional customer experiences across the world.
Can you describe your role and what you love about it?
As a member of the Global Expansion and Growth team, one of my key focus areas is to accelerate Audible's global growth. This includes expanding Audible's footprint to new geographies, as well as introducing new innovations to our existing global customers.
Based on the nature of our team's work, I have the privilege of working on long-term initiatives, shoulder-to-shoulder with a variety of cross-functional teams across the globe, to serve our equally diverse customers. I find that I'm most inspired when I'm learning something new from my colleagues, or about our customers, and hearing about the impact our product has on our customer's lives.

What made you choose to work at Audible, what makes you want to stay?
I feel fulfilled by tackling hard problems with smart people, and thankfully get to do both, while having fun, at Audible. The dynamic industry and evolving customer expectations consistently present new opportunities and challenges, and they allow for constant growth and learning.
Do you belong to any of Audible's impact groups?
I find comfort in community and appreciate the thoughtful conversations and programming that Audible's impact groups provide—especially during challenging moments or when looking for inspiration. Whether it be in a Women@Audible panel, or a Black Employee Network (BEN) or UNiDOS event, I consistently leave conversations and events feeling more connected with my fellow colleagues and re-energized to take on the challenges of the day.
What's something you love about the culture here?
I work with so many intelligent and experienced individuals who continuously practice "Activate Caring" by taking the time to thoughtfully answer my questions, share background details and additional resources, and truly make me feel there is no such thing as a dumb question. I appreciate this continued investment in me, which allows me to more deeply understand our customers, technology, and opportunities, and to therefore drive solutions that consider diverse use cases and satisfy goals.
What are some of your favorite benefits at Audible?
I value Audible's commitment to employee wellness by practicing "Meet Free Thursdays," where I can supercharge productivity without interruptions; subsidizing wellness-related activities; and honoring work-life balance by refraining from after-hours communications and requests.
What advice would you have for a candidate considering Audible?
Consider how you practice Audible's People Principles in your current role, and how your unique set of experiences can help Audible "raise the bar" in each category. Audible's People Principles aren't your average corporate credo—we live and breathe these principles in our daily work!
Lightning round
Favorite Genre? Non-fiction.
What hub are you aligned to? Newark.
Listening from a speaker or in your headphones? Both! Speaker during house work and headphones while walking my dog.
Morning person or night owl? Night owl.
Favorite snack? Cheetos—Flamin' Hot Limón!

What have you been listening to lately?
I recently enjoyed Michelle Zauner's memoir, Crying in H Mart. It was so powerful to identify with the author's experiences and emotions, which made me reflect on my own biracial identity and connection to my Korean heritage.
Audible's People Principles celebrate who we are and where we've been, and guide the way we work shoulder to shoulder to enhance the lives of our millions of customers around the world. They reflect and apply to everyone who works at Audible—the entrepreneurs and operators, the dreamers and the doers, those who have worked here for 20 years and those who have arrived in the past few weeks and months.