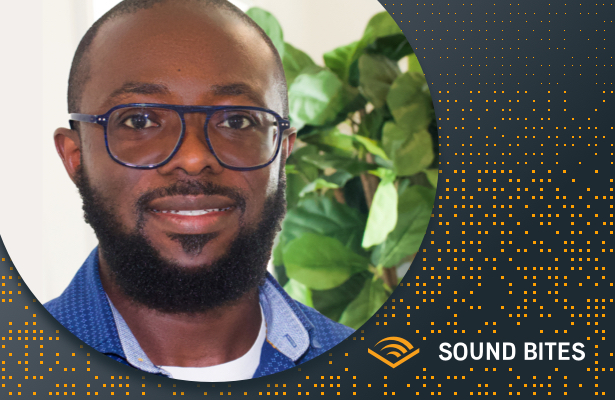 Audible Sound Bites with Kofi Appiah
Kofi Appiah is an Audible Senior Product Manager, bringing his extensive technical knowledge and his interest in business strategy together to solve problems on behalf of the customer. In addition to making a positive impact for our listeners, he's proud to be part of a workplace culture that directly invests in the community and encourages him to bring his full, unique self every day. He shares what he loves about working in Product at Audible, as well as some advice for anyone interested in joining the team.
What has your career journey been like so far?
I went to college in Ghana, where I was born, then pursued a master's degree in the US at University of Virginia, in electrical engineering. I had started my career with a telecommunications company briefly in Ghana and then continued in the US after grad school as a systems engineer, designing and building communication networks for public safety and government agencies.
My interest in combining my technical know-how with business strategy to provide market solutions led me to eventually make a pivot into product management. I pursued an MBA at Indiana University to broaden my business acumen.
In late 2020, after 12 years in telecommunications, I moved into the tech space, joining Audible as a product manager.
What made you choose to work at Audible, what makes you want to stay?
Audible's People Principles were a big deciding factor; also the opportunity for personal development and career growth. My manager assigned me a mentor as soon as I started and that's been one of the most beneficial things here.
One of the benefits of being an Audible product manager is access to the vast Amazon community. I've taken advantage of courses in machine learning to solve business problems. I plan to also use Audible's tuition reimbursement program to further enhance my knowledge.
Other things I've found invaluable include parental leave, wellness days, free lunch, and flextime to deliver my best work while also caring for the folks I love the most: my family. Joining in the midst of a pandemic, it was so refreshing to see how invested Audible was in its employees, providing stipends for folks to purchase work from home gear to help them comfortably adjust. This is a company that definitely invests in its employees.
Can you describe your work in the Product & Customer Experience Organization?
My current focus is building and enabling key technology capabilities for our marketing teams. That means drawing up a vision, building a roadmap, and collaborating with key stakeholders to make it real. My ultimate satisfaction is knowing that I contributed to removing friction for a stakeholder to do their best work while bringing immense value to our customers.
One of the key things that attracted me to Audible was its People Principles. In my day-to-day, the primary principles that I put into practice are "Be Customer Obsessed" and "Activate Caring." My first thought is always around how does this add a delightful experience to my direct customers, the stakeholders, and ultimately an Audible user. Additionally, every time I work with others, I'm reminded that I'm dealing with human beings, and people have ups and downs, so I try to create an environment of camaraderie to help foster collaboration.
Can you share the best piece of advice you've received or given about remaining productive while working in a hybrid Hub+Home model?
It's important to have well-defined boundaries between work and personal life. Going into an office offers a change in scenery, environment, and also a mental switch from one thing to the other. When you work from home, that becomes difficult if you do not consciously take lunches, go for walks to recharge and refresh yourself, and have family time. Boundaries are important because they help to enforce a transition from one state of mind to the other, which is vitally important for long-term productivity and health.
What's one quality people interested in working in Product need to be successful here?
Empathy. Be willing to put yourself in the shoes of your customers and stakeholders. It goes a long way to help you understand their true pain points.
Do your research about Audible; read Audible's People Principles and never hesitate to ask probing questions of your recruiter. Audible teams are always willing to help you make your decision to join the broader team to bring about real change to the lives of our customers.
What's your favorite listen?
Tough one, but my favorite so far has been David and Goliath: Underdogs, Misfits, and The Art of Battling Giants by Malcolm Gladwell, a key takeaway being that sometimes the features and qualities that make up a giant, or provide superiority, may also be the source of its weakness.
Product & Customer Experience Opportunities
View All of Our Available Opportunities
Sign up for Job Alerts
Audible's People Principles celebrate who we are and where we've been, and guide the way we work shoulder to shoulder to enhance the lives of our millions of customers around the world. They reflect and apply to everyone who works at Audible—the entrepreneurs and operators, the dreamers and the doers, those who have worked here for 20 years and those who have arrived in the past few weeks and months.