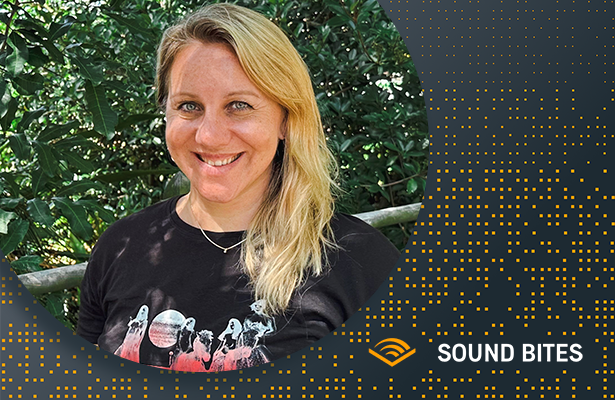 Audible Sound Bites with Janine Jansen
Janine Jansen works as a Mobile Growth Marketing Manager on our APAC Performance Marketing team, focusing on reaching potential Audible customers in India, Japan, and Australia. Based out of our Sydney hub, she studies all the possible ways to get more people excited about Audible.
Can you describe your role as a Mobile Growth Marketing Manager?
My main goal is to identify the creative ideas, advertising partners, tech tools, measurement enhancements, and so on that will help us grow and optimize our campaigns better. I spend a lot of time researching and identifying trends in the advertising industry, both globally and locally. I look into customer needs and behaviors and work closely with our advertising partners to understand and identify the next big thing, whether this is a Google Beta test or new Meta ad format, etc. I lean on multiple sources of inspiration, from cultural and industry trends to tech innovation and exchange with my network of colleagues, friends, and experts in this field. Then I can develop proposals and work closely with the Performance Marketing teams to influence our acquisition activities and testing roadmaps.
Can you share a little bit about the experience of working in the Sydney office?
We are a relatively small and very agile team, and we work closely together across multiple departments. This enables us to think outside of a single role or channel and understand the various synergies and influencing factors across the whole customer journey.
What gets you excited to come to work in the morning?
I am very passionate about performance and mobile marketing, figuring out how to acquire new customers and get them excited about Audible. I love the diversity of tasks that come with my role being very analytical and metrics-driven, but also creative and technical. In addition, we have an awesome team at Audible. The working culture is very caring, collaborative, empowering, and team-oriented.
Why did you choose to work at Audible, and what makes you want to stay?
At first, I chose Audible mainly because of the role. It was 100% what I was interested in and passionate about. In addition, working for a brand like Audible excited me, since it's a product that delivers value to people's lives. I have had the opportunity to learn, develop, and grow in my career and I work with so many talented, fun, and kind people.
I've experienced a lot of trust and openness to experiment and learn, which makes my job even more exciting. Success and failure are equally valued, as we learn from both and can use the insights to do it better the next time. It is a working environment that makes me feel safe and empowered.
What Audible benefits do you love most or have you taken advantage of?
Aside from numerous trainings internally, I've participated in Squared Online, a five-month digital leadership course developed by Google in partnership with Home Learning College and guided by industry experts, which Audible covered. I am currently looking into a new course about growth marketing for this year and am excited to learn more about the right strategies and processes to support growth for our business.
The flexibility and support during Covid-19 was amazing, as well as the continued new way of working in our hybrid Hub+Home model, which is very supportive for juggling work life and private life better.
Audible also gives us a "Wellness/You" day every quarter to take care of ourselves. We are encouraged to spend the day doing something that makes us happy and re-energized. I usually spend the day in nature, go hiking, or book a nice massage.
What are you listening to right now?
Power, by Kemi Nekvapil. Kemi visited our offices in Australia last year for a creator meet-and-greet session, where I learned about her life and experience and how she coaches and guides others. I love listening to true stories of people's experiences and learning from them.
Audible's People Principles celebrate who we are and where we've been, and guide the way we work shoulder to shoulder to enhance the lives of our millions of customers around the world. They reflect and apply to everyone who works at Audible—the entrepreneurs and operators, the dreamers and the doers, those who have worked here for 20 years and those who have arrived in the past few weeks and months.