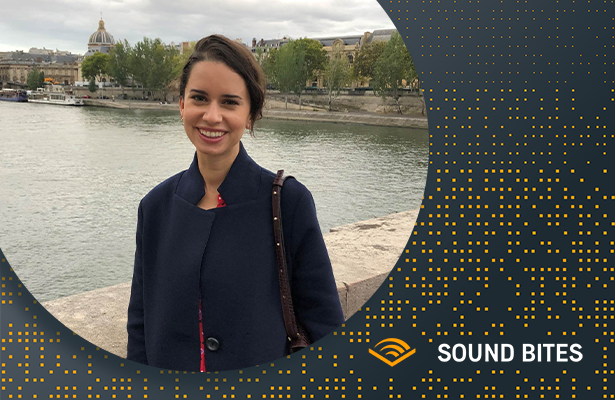 Audible Sound Bites with Franki De La Vega
Franki De La Vega is an Associate Director of Creative Development on our Content team. Coming from a background in theater, she was drawn to the exciting developments in audio entertainment and now helps to bring Audible Theater productions to the stage as well as households and headphones around the world. Here she pulls back the curtain on what it's like to work at Audible, and on such an exciting team.
Can you describe your role within the Content team?
My main focus in my role is producing our Audible Theater live stage work at the Minetta Lane Theatre in Greenwich Village, New York City. I oversee our longer six-week runs of shows, as well as our three-night live recorded performances. I love that I get to produce live stage work (my career background and longtime passion), and I also get to work with creatives to optimize these productions for audio. Our theater initiative guarantees that these productions live on through Audible and reach a global audience. That's something that's just not possible when you produce live theater, which is so ephemeral. Preserving the work of these incredible artists through our theater initiative is definitely one of the most rewarding parts of my job.
We also produce new work through the Emerging Playwrights Fund. It's a really diverse slate in terms of the stories we tell and the voices we champion, and that never fails to keep me engaged and interested in the work. Plus, I love that I get to work with other creative and inspiring folks throughout the organization.
What's an example of a project you worked on that you felt excited by?
My most recent project was Fade, an adaptation of Tanya Saracho's play about the cost of Hollywood ambition, starring Karla Souza and Carlos Miranda. I watched Tanya Saracho's series Vida on Starz back in 2021, and I went directly to the head of our theater initiative, Kate Navin, and said, "I want to work with Tanya!" It felt like a project that I manifested, and it also ended up being personally meaningful. As a Mexican-American, I felt a connection to Tanya's story about class and race within our community. It was really rewarding to work with an all Latino/a and Hispanic cast and creative team.
What do you love about working at Audible?
I love that we are encouraged to [as one of our People Principles says] "articulate the possible and move fast to make it real." On so many of my projects, I've gone from pitching an idea, to greenlight, to production, and then release, all in a matter of months. That speed can sometimes feel overwhelming, but it's also exciting to know that you can bring an idea to the table and there's a great chance that your project will become a reality —and quickly!
In December, I'll be taking my second maternity leave in my four years at Audible. Not only do I feel lucky that I work at a place that has such a generous pre- and post-partum leave policy, but I'm so thankful to work somewhere with a culture that accepts, and even welcomes, the sometimes complicated role of working parents through ramp-back programs and a hybrid work environment. So many of my colleagues throughout Audible are parents, and I think that really speaks to the company's acceptance of a work/life balance, but also the idea that we are still able to excel in our jobs even after having kids. I never feel passed up for an opportunity because of my commitments at home or the demands of being a mom—in fact, I just got promoted and I'm six months pregnant!
What should people know if they're interested in working in Content at Audible?
We really are a nimble team—not only in Audible Theater, but in all of Content—and I think that the ability to pivot and stay positive while facing the challenges of making great content is imperative to succeeding. Also, we work on a team where the best idea really does win, so a belief in your own originality and content ideas is a must.
What are you listening to currently?
I just listened to Gilly Gilly, written and performed by Cush Jumbo. It's a harrowing personal story, but it feels like you're listening to a mystery unfolding. I am a big fan of Cush's work as a performer and writer in the theater world, and I was impressed by her ability to create a work for audio that was filled with gripping storytelling and bold narration.
Audible's People Principles celebrate who we are and where we've been, and guide the way we work shoulder to shoulder to enhance the lives of our millions of customers around the world. They reflect and apply to everyone who works at Audible—the entrepreneurs and operators, the dreamers and the doers, those who have worked here for 20 years and those who have arrived in the past few weeks and months.