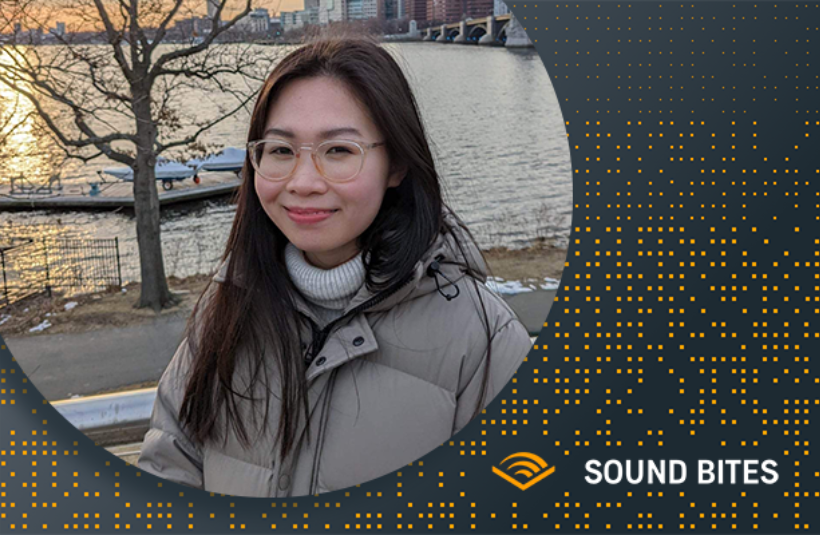 Audible Sound Bites with Emma Nguyen
Emma Nguyen started as a tech intern with Audible while she was in college, where she says she had "one of the best summers in my life." She accepted our full-time offer in 2020 as a software development engineer. Now Emma is an SDE II on the Audible on Alexa Quality Assurance team, ensuring that our customers have the best possible experience using the new voice control features of our app. Along the way she and her teammates have a great time (and even some laughs) solving interesting, novel challenges. Here's why she loves working in software engineering at Audible.
What's special about software engineering at Audible?
At Audible, software engineers are in a unique position where we get to use technology from Amazon and Amazon Web Services (AWS)—one of the best tech resources in the world—and then modify it to make it cater to our needs.
About my team, we are a mix of quality assurance (QA) engineers and software engineers. That's special because I basically work with my customers: QA engineers are in charge of making sure our product is of the best quality for our customers, while software engineers like me build tools to help our QA engineers automate the testing.
I get to face interesting, challenging problems, and I get to solve them alongside my colleagues who are really smart and knowledgeable. Some of them are my friends, which makes it fun—we get some laughs every now and then, especially when a problem is hard.
Something else I really love about software engineering at Audible is that I can approach any other engineers to ask technical questions. Everyone is always ready to share their knowledge with me. I also have a mentor—he's one of the smartest people I know. We met through a networking/speed mentoring event for Audible's impact group, Women In Tech, which I'm part of.
What are some projects you're most proud of?
I'm really proud of a service I built that vends test accounts to testing frameworks. My team and I built it from scratch using the latest cutting-edge AWS technologies and best software development practices. The project has been super interesting and has significantly propelled my technical growth. Other teams at Audible have been using my service in their testing. I'm proud that I am able to be a part of solving challenges at Audible so that we continue to deliver reliable, excellent service to our customers.
Why did you decide to work at Audible?
I was a software engineer intern at Audible during the summer of my junior year in college. I had one of the best summers in my life: I worked with great people, made awesome friends, learned a bunch, and so of course I accepted my return offer. After graduating college in 2020, I came back to Audible and have been here ever since. I just got promoted recently. My manager is amazing—he's supportive, knowledgeable, and makes sure I get recognition for my work.
What do you love most about the culture here?
I love the work-life balance at Audible. No one is expected to work late, and before holidays, everyone is encouraged to log off early if there's no extremely urgent work. This balance is awesome because I can excel at work while still fulfilling my personal hobbies.
I love Audible's well-being encouragements, including wellness days, support from colleagues, and wellness reimbursement. I think focusing on mental and physical well-being is of great importance, especially with the economic and societal landscapes we're in these days. One of my 2022 resolutions was to engage in more wellness activities such as aerial yoga and pilates, and Audible's support has helped me reach my goal—I've been doing these activities almost every week for the past seven to eight months.
What advice do you have for remaining productive while working from home?
Take small breaks every now and then. It clears your mind and the answer you're looking for is suddenly just there. I once spent three hours on a problem, took a break, and solved it in five minutes. The human brain is a curious case.
What's your favorite listen?
Born A Crime by Trevor Noah. It's funny, yet still immensely heartfelt and insightful.
Audible's People Principles celebrate who we are and where we've been, and guide the way we work shoulder to shoulder to enhance the lives of our millions of customers around the world. They reflect and apply to everyone who works at Audible—the entrepreneurs and operators, the dreamers and the doers, those who have worked here for 25 years and those who have arrived in the past few weeks and months.
View all Our People Principles