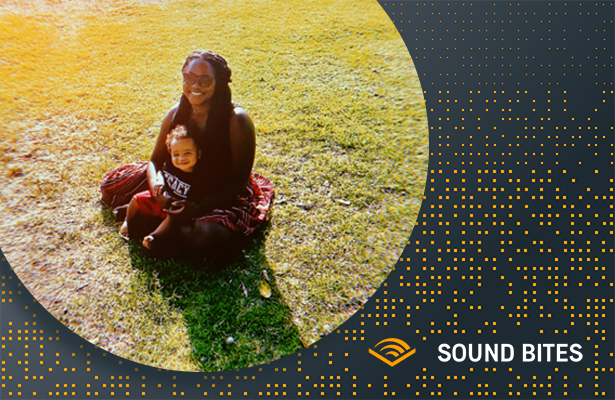 Audible Sound Bites with Britt McCombs
The dedicated individuals on our content teams scour the world for stories that inspire and entertain. In this interview, hear how Audible's supportive culture, People Principles, and unique opportunities motivate Britt McCombs, a Sr. Manager of Audible Originals, to work to create the best in audio entertainment every day.
What gets you excited to come to work in the morning?
Every day here is different. I have the pleasure of working on Audible's Words + Music team, so one day I might be editing a manuscript from one of my favorite musicians, the next I might be on the phone with a manager that represents an artist that we are excited about working with, and the next I might be at a venue watching an artist perform a project that I had the opportunity to help develop. In 14 years of working in various forms of media, this is the most thrilling and creatively fulfilling role I've had thus far.
What is your biggest source of inspiration in your role?
My main focus is producing projects that are unique and compelling. One of the things that I really love about working on Words + Music are the different production styles. Some of them have been performed live and so you're getting this really dynamic audio experience, and hearing and feeling this incredible exchange of energy between the artist and the audience.
We have an artist like Rufus Wainwright who approached the format in a really out of the box way. We recorded a six-hour road trip that he took with his therapist, discussing his life and career and the lives and musical legacies of his family. Then he recorded his music live at the legendary McCabe's Guitar Shop in Santa Monica. To tie these two elements together he recorded voiceover from his home in Los Angeles, so you're getting these contrasting sonic textures throughout the piece.
And then we have artists like Tariq Trotter (aka Black Thought from The Roots!) who recorded the whole interview in studio and the result is a narrative that feels really personal and intimate, like he is speaking directly to you. So, as it relates to unleashing the power of the spoken word, Words + Music is a really compelling illustration of what is possible in audio.
My two biggest sources of inspiration outside of work have always been music — longform music journalism and music documentaries.
What's it like to work on the Content Team at Audible?
What's unique about content at Audible is that it is premium and diverse. Across the board, from traditional audiobooks, to Words + Music, to scripted content, to our incredible and innovative theater program and our expertly crafted narrative nonfiction podcast, Audible Originals has a catalog of work that is completely differentiated from any other service both in terms of scope and quality.
The Words + Music team didn't exist three years ago! It's been such a joy to be a part of a team that is building something new and original from the ground up and I'm inspired by my colleagues Preston Copley and Carson Donelly every day.
How do you utilize our People Principles in your day-to-day work?
The People Principle that resonates most with me is "Imagine and Invent Before They Ask". As someone working on the creative side, this principle is extremely valuable and affirming in terms of the way that I approach development and production. With this principle in mind, I strive to contribute to Audible's culture of experimentation and innovation every day.
How has Audible supported your career journey?
I gave birth to a beautiful baby boy on May 8, 2020 at the height of pandemic. I live in Newark, NJ, and cases were peaking just around the time I was scheduled to go into labor. As we all know, this was a very scary and uncertain time. The paid parental leave benefit that Audible offers allowed me to take time away from work to recover from pregnancy and labor and spend time with my son without having to worry. Mothers that work at other companies shared with me that they had very little paid leave time and in some cases no paid leave at all. Both mothers and fathers need time away from work during this transformational time in their lives, and I'm so grateful that Audible offers such a robust paid leave benefit.
Can You Share the Best Piece of Advice You've Received or Given About Working in a Hybrid Work Environment?
Have a dedicated workspace! The first six months of the pandemic, I would work from a lap desk that was positioned on top of my bed. When it became apparent we would not be going back into the office anytime soon, I converted my guest room into an office and it was a complete game changer as relates to my productivity and focus. Plus, everyone gets to see my colorful wallpaper!
I would also say find ways to stay connected with both your direct team members and people who you don't always work with but used to see and catch up with when we were in the office full-time and allow for time in those meetings to just check in about things that aren't work related. How are your kids? How was that vacation? What TV shows are you watching? I think we all miss the casual run-ins while getting coffee or lunch where these types of convos used to happen, and it's important to stay connected with my colleagues and what's happening in their lives outside of Audible.
What advice would you have for someone who is inspired by your career journey?
I came to Audible after more than seven years as a television editor. I had been mostly working on commercials and reality TV. I was feeling uninspired and burnt out in that role and was also really interested in podcasts and other forms of original audio entertainment and wanted to try something new.
My husband and I bought a house in Newark and passed by Audible's HQ one day and I told him, "I'm going to work there." Two months later I was hired as a contractor and eventually converted into a full-time employee.
I'm getting to do meaningful work that I'm passionate about and proud of. The benefits are extremely supportive, and I have a great work-life balance, which is especially important while parenting a rumbustious and active 2-year-old!
What is your current Audible listen?
I'm currently listening to The Big Lie and really enjoying it! I love immersive, scripted multi-cast stories and this one features a fascinating narrative that is incredibly performed by stars like John Hamm, Kate Mara and Ana de la Reguera.
Audible's People Principles celebrate who we are and where we've been, and guide the way we work shoulder to shoulder to enhance the lives of our millions of customers around the world. They reflect and apply to everyone who works at Audible—the entrepreneurs and operators, the dreamers and the doers, those who have worked here for 25 years and those who have arrived in the past few weeks and months.
View all Our People Principles