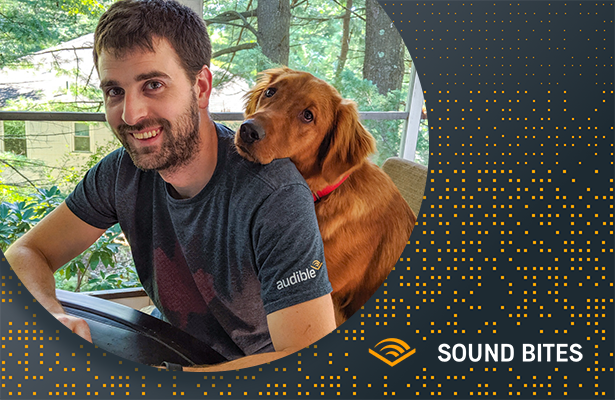 Audible Sound Bites with Ben Culmer
Ben Culmer is a Quality Assurance Manager focusing on the Audible experience for Android. He joined us in 2016 and, like so many of our tech employees, is not only diligently working to make the Audible experience great for all our customers—he's an avid user and listener too.
How did you come to work at Audible and what makes you want to stay?
I was interested in working on a product that I actively use. I was lucky enough to get a job here as a quality assurance engineer on the Web QA team. What keeps me around is my belief in and love of the product. On top of that, the people are great. I don't think I can overstate how important the folks I've worked with have been to my career growth.
What gets you excited to come to work in the morning?
My team ensures that we are releasing quality incremental changes and updates to the Android app and playback flows across platforms. My focus is to enable my team to do their work efficiently, helping to organize and prioritize, and to remove roadblocks to the work that needs to be completed, both short and long term.
I really love the Audible product and the folks I work with. Audible was a gateway to consuming literature that I hadn't touched since before high school. Before I found Audible, I'd probably not read a book cover to cover in about 10 years. With Audible I have been able to consume more than 10 books per year (I've re-read several).
What are some projects you're proud of?
I've been at Audible for quite a while, so I've had the privilege to work on a lot of very cool projects. As a user of the product, though, I'm partial to the features and projects that affect my usage. The library redesign, I think, fits the bill best: finding the title I'm looking for is easier now, and being involved in a project that changes or simplifies a behavior that happens every time a customer opens the app is especially gratifying.
Other than the people, what do you love most about the culture here?
I'm involved with a group of volunteers called the Audible Correction of Error Bar Raisers who help Audible to learn from mistakes and attempt to prevent them. The culture at Audible is almost entirely driven around trying to make things better for our customers, and that's something I find deeply motivating and inspiring.
What's one quality people interested in working in tech at Audible need to be successful here?
Curiosity is essential. I've described Audible as similar to a start-up culture, but with the backing of one of the biggest companies in the world. We do our own thing, our own way, with influence and tools from Amazon. Systems and workflows here can be complex and take some effort to understand, so new hires need to be curious about how things work in order to ramp up quickly and effectively.
What's your favorite listen?
Probably Words of Radiance by Brandon Sanderson. There are a few incredible scenes, which I do not want to ruin by describing, one of which had me so engrossed that I lost track of time and missed my train in the morning.
Audible's People Principles celebrate who we are and where we've been, and guide the way we work shoulder to shoulder to enhance the lives of our millions of customers around the world. They reflect and apply to everyone who works at Audible—the entrepreneurs and operators, the dreamers and the doers, those who have worked here for 25 years and those who have arrived in the past few weeks and months.
View all Our People Principles