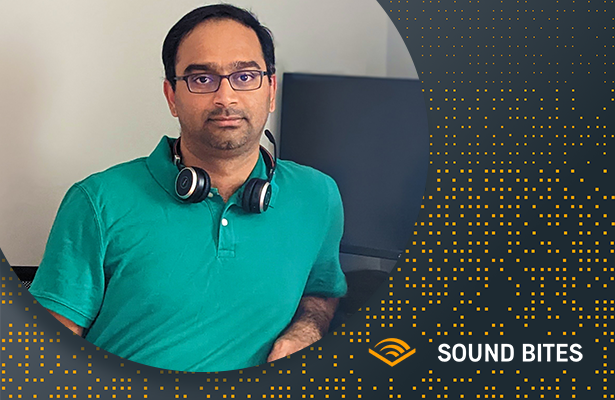 Audible Sound Bites with Abhi Muralidaran
Abhi Muralidaran has been a Senior Technical Program Manager on Audible's International Tech team since August 2020. Based out of our Newark headquarters, he coordinates and oversees the technological execution of key programs that affect our customers all over the world. We caught up recently to learn more about what he does and his perspective on what it takes to be successful at Audible.
Can you describe your role within Audible's International Tech team?
As a Technical Program Manager (TPM) at Audible, I am involved with people across the breadth of the company, and most people know me by my first name. This challenges me to be fully credible, to constantly learn and be able to collaborate across tech and non-tech teams to make strategic decisions that people can feel proud of.
Since I am part of the international team, I also get unique exposure to various cultures across our marketplaces and get to understand the finer points where globalization and localization approaches intersect.
What gets you excited to come to work in the morning?
One, every day at work is an opportunity for me to make things better for our millions of customers across the world, be it by delivering great features and/or making incremental updates.
Two, I look forward each day to working with wonderful people who are ready to collaborate with and mentor me all the time.
What's an example of a project you're proud to have worked on?
As TPM, I aided the transition of our service in Japan to an all-you-can-listen model. We had teams working really hard for 6–8 months to make this transition smooth, and seeing that achieved makes me feel very accomplished and proud. The transition has been a success. Every time I hear our customers in Japan expressing happiness about having all-you-can-listen access to our content, it just makes my day.
What's the best advice you've received about being productive while working from home (WFH)?
Schedule your WFH days the same as if you would be working in the office. Follow similar schedules for getting ready, logging in and taking breaks. If possible, assign a place at home with minimal distractions that can become your office, so that your mind and body get used to being productive there. And most importantly, understand the boundaries of work and personal time when working from home—have a planned end time, as well.
What advice do you think someone needs to be successful at Audible?
Develop a passion for the customer experience. Irrespective of how good you are at your job or what your role is, for you to be successful at Audible it is very important to think in terms of what is the best possible experience you can give to customers in any situation.
What's your favorite listen?
The Harry Potter series (Jim Dale narration). I've been a Harry Potter fan since school. Currently I'm listening to Leadership Strategy and Tactics by Jocko Willink, which was recommended by a friend while chatting about leadership principles. I am always curious about how great leaders make great decisions that impact not just employees, but customers as well.
Audible's People Principles celebrate who we are and where we've been, and guide the way we work shoulder to shoulder to enhance the lives of our millions of customers around the world. They reflect and apply to everyone who works at Audible—the entrepreneurs and operators, the dreamers and the doers, those who have worked here for 25 years and those who have arrived in the past few weeks and months.
View all Our People Principles