Newark, New Jersey
Software Development Engineer II - AFS (Bailey)
Product & Technology |

Job ID

1105716
Job Summary
At Audible we are embarking on a mission to reshape the fundamental experiences and delight our customers and drive a strong engineering culture. It's our responsibility to push Audible into new places; wherever our customers are listening. Achieving this vision means expanding and strengthening our development process and leveraging new technologies to deliver services and web applications. We need your help to develop and deliver on this vision. Success means we lay the foundation for continued expansion of our company without disrupting an already tremendously successful and much-loved project.

HOW DOES AMAZON FIT IN?
We're a part of Amazon: they are our parent company and it's a great partnership. You'll get to play with Amazon's technologies, but it doesn't stop there. Audible is built on a strong foundation of Amazon technology and you'll have insight into the inner workings of the world's leading ecommerce experience. There's a LOT to learn! Your career will benefit from working with teams like Alexa, Search, Kindle, A9, P13N and many more.

If you are excited to own and solve complex problems, work with a creative dynamic team, fail fast in a supportive environment while growing your career and working on high volume (2000+ transactions per second) services that support millions of customers worldwide, we want to hear from you.

ABOUT THE ROLE
Audible Financial Services (AFS aka Bailey) team is chartered to build the next generation of Royalty Processing and Contracts Management Platform. This includes building and scaling a global contracts platform to build innovative deals for our publishers and ensuring accurate and timely processing of Royalty for several million transactions every day. Candidates who delight in evolving technology platforms, working on highly distributed systems and obsess over customer success should apply. This opportunity is not for an order taker. You will be involved in the overall vision, culture and direction of the team. Successful candidates will enjoy working in collaborative, randomized and fast-paced environments.

As an engineer on our team, you will own software in all phases of the software life-cycle from architecture and design through deployment and release. You will help create scale-able, global applications. You will also build applications to automate manual process of validations and scale the applications to meet capacity needs. You will learn about Audibles core Financial Technologies, interact with other teams to build optimized systems, and have autonomy to deliver software which impacts multiple large and small Publishers, globally.

KEY RESPONSIBILITIES
· Work independently on a small, agile engineering team and execute on your great ideas
· Write amazing, maintainable & scalable code
· Partner with business stakeholders, Product Managers to imagine, Design, Develop, Test, and Launch software that wows our community and inspires your peers
· Be willing to explore and learn un-prompted. Bring problems AND solutions to the table
· Integrates and communicates fairly complex information within the specialization
· Devises solutions based on limited information and uses past experience or precedent to identify solutions or to adapt existing approaches to resolve issues
· Set the technical direction and strategy within the team and strategize to influence technology across Audible and beyond
· Mentor and lead developers by cultivating curiosity and deep technical understanding

Basic Qualifications
· Major in Computer Science, Mathematics, Engineering or related area. Bachelor's degree or above
· 4+ years' experience with an OO language (Java, Python)
· Strong OO design skills with understanding of common design patterns
· Experience translating business requirements into operational systems
· Ability to propose creative and elegant solutions to complex technical problems
· Commitment to operational excellence: building low-defect systems that are user-friendly with low operational burden
· Willingness to own all stages of development process: design, testing, implementation, operational support
· Willingness to work in an agile team development environment, have basic knowledge of agile design process, experience developing software in an agile environment is highly preferred
· Knowledge of databases Dynamo DB, Postgres
· Experience building large-scale, fault-tolerant distributed systems is preferred
· Experience with event-driven systems highly desirable
· Excellent communication skills
· Major in Computer Science, Mathematics, Engineering or related area. Bachelor's degree or above
Preferred Qualifications
· Masters in Computer Science or equivalent industry experience
· Solid Computer Science fundamentals in Object oriented design, data structures, algorithm design, problem solving and complexity analysis
· Great communication skills - ability to think creatively and adapt the message to the audience
· A high-quality bar; just-enough documentation, unit testing, code reviews, test automation, continuous integration & deployment and a preference for agile methods
· Strong OO design skills with understanding of common design patterns
· Experience translating business requirements into operational systems
· Ability to propose creative and elegant solutions to complex technical problems
· Commitment to operational excellence: building low-defect systems that are user-friendly with low operational burden
· Willingness to own all stages of development process: design, testing, implementation, operational support
· Willingness to work in an agile team development environment, have basic knowledge of agile design process, experience developing software in an agile environment is highly preferred
· Knowledge of databases Dynamo DB, Postgres
· Experience building large-scale, fault-tolerant distributed systems is preferred
· Experience with event-driven systems highly desirable
· Excellent communication skills

ABOUT AUDIBLE
Audible, Inc. is the world's largest seller and producer of spoken audio entertainment, information and educational programming. Since inventing and commercializing the first portable digital audio player in 1997, our focus on technological innovation and superior programming has earned us millions of subscribers around the world. We're an Amazon subsidiary with a presence on four different continents, yet we maintain a startup vibe and small company feel. We offer more than 475,000 downloadable audiobooks, audio editions of periodicals, and other programs, and an escalating array of listening products that enrich daily life for a growing population of people who want to be more productive, well-informed, and thoughtfully entertained.

Audible is committed to a diverse and inclusive workplace. Audible is an equal opportunity employer and does not discriminate on the basis of race, national origin, gender, gender identity, sexual orientation, protected veteran status, disability, age, or other legally protected status. For individuals with disabilities who would like to request an accommodation, please visit https://www.amazon.jobs/en/disability/us.

---
Sign up for Job Alerts
---
Related Jobs
Senior Product Manager – mobile apps

Newark, New Jersey

Product & Technology

Audible is seeking a Senior Product Manager to define and build key product experiences that will elevate the customer e

Manager, Software Development (Core Android)

Newark, New Jersey

Product & Technology

This opportunity is for a Software Development Manager for Audible's Core Android team. The Audible Android team's visio

Software Development Engineer II

Newark, New Jersey

Product & Technology

Audible Digital Asset Management (ADAM) group is the repository for all audio data pertaining to Audible products. These
Audible Success Profile
Audible is built on a strong foundation as an Amazon subsidiary, so you'll get to play with all of Amazon's technologies at a company with an entrepreneurial spirit. We're looking for someone with a focus on our customers and our operational excellence to help us unleash the power of the spoken word.
Builder

You have an ability to deconstruct and simplify problems. You're committed to action and value the positive disruption your creations have on the status quo.

Customer Obsessed

Each project has our audience in mind, and you're passionate about developing fantastic customer experiences through innovative technology.

Passionate

You recognize that your work impacts millions of listeners and the technology you help build invigorates our community and inspires our peers.

Inventive

You imagine without fear and have an ability to navigate highly complex and ambiguous situations with creative problem-solving and curiosity.

Effective Communicator

You can adapt complex information to your audience, and your influence on internal team collaboration impacts design and drives engineering best practices.

Socially Conscious

You embrace working, living, serving, and playing in your neighborhood. You're ready to enhance our communities and the lives of our millions of customers.
Audible's People Principles celebrate who we are and where we've been, and guide the way we work shoulder to shoulder to enhance the lives of our millions of customers around the world. They reflect and apply to everyone who works at Audible—the entrepreneurs and operators, the dreamers and the doers, those who have worked here for 20 years and those who have arrived in the past few weeks and months.
What we can offer you
We are a community of brilliant minds, brimming with fresh ideas and working shoulder to shoulder to achieve greatness. And because of this, we think it's only fair that we offer some nice little perks to everyone who goes the extra mile at Audible.

Food
Fully stocked kitchen with all the snacks and drinks to get your creative thoughts flowing.

Health
Dental and vision plans, life insurance, and the medical plan options that suit individual needs.

Savings
Plan for your future with employer-matched savings accounts.

Stock
We grant our employees restricted stock units, because we want them to think and act like owners.

Time Off
We love what we do but everyone needs the opportunity to hit the refresh button. Take advantage of vacation days, sick days, and personal days to rejuvenate.

Social
From tickets to local events and exciting company-sponsored events, regular outings and team-building events foster our spirit of collaboration.

Amazon Discount
As part of the Amazon family, Audible employees are entitled to a discount on products on Amazon.

Fitness
Discounted sports clubs or fitness reimbursements.
What keeps me motivated here in one word is 'opportunities.' Being able to deep-dive into complex cross-domain problems and stepping out of my comfort zone with projects, technologies and people. I can spontaneously collaborate with literally anyone—from my Audible teammates to my Amazon counterparts to our CIO and CEO—and most importantly get valuable feedback along the way.
Anshika Priyadarshee
Software Development Engineer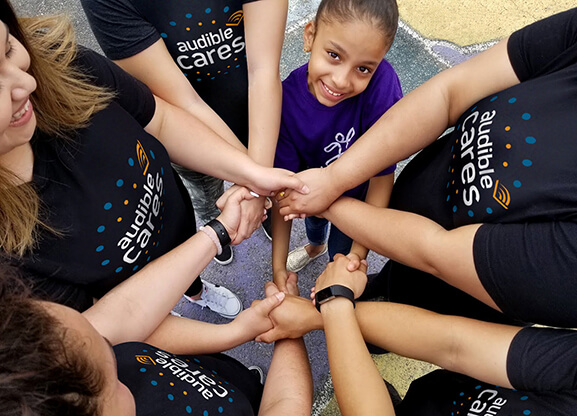 Community Impact
At Audible, we seek to exemplify what a company can mean beyond what it does. As Newark's fastest-growing private employer, we recruit and cultivate local talent as well as drive forward a wide range of community initiatives with a focus on supporting Newark's renaissance. Our global offices embrace their local communities as well, and our employees around the world volunteer and serve in their communities in addition to seeding and growing the local creative economy.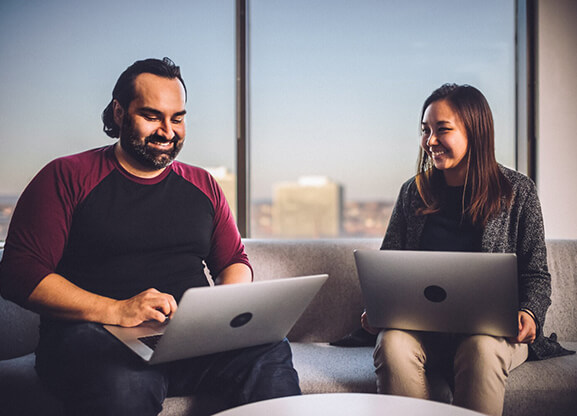 Benefits
Plan for every chapter of your career journey with a wide range of generous benefits that you can rely on. We're fostering an environment where everyone can thrive, individually and as part of the greater Audible community.