Newark, New Jersey
Backend Software Development Engineer II
Technology |

Job ID

1424752
JOB SUMMARY
Excited by High Scale Distributed Systems and Personalization? Interested in working on complex problems and high impact projects?
Whether recommending content, improving search results, or anticipating what the customer is about to do, Personalization is all about making the product experience unique, relevant and valuable to the customer. The ideal candidate has background in developing large scale systems, interest in personalization, intense curiosity, excellent analytical abilities. You should be a self-starter, comfortable with ambiguity, able to think big (while paying careful attention to details) and enjoy working in a fast-paced dynamic environment. Engineers will work closely with both business teams and development teams to understand requirements, design and develop the technical solution and collect feedback from customers. If you are looking for your next big challenge and career move, come talk to us.

KEY RESPONSIBILITIES
· Design, develop, and test software components and applications for the largest creator and provider of audiobooks in the world.
· Work on an agile engineering team writing maintainable and scalable code for software components and influencing team decisions.
· Collaborate with stakeholders to imagine, design, develop, test, and launch software that impacts our customers and inspires your peers.
· Uses technology to solve difficult problems. Defines a design, turns it into high quality code, and delivers it on schedule. Proficient in a broad range of data structures and algorithms, knowing when it is (and isn't) appropriate to use them.
· Capable of independently clarifying technical requirements, assessing development estimates and applying a broad range of design approaches.
· Review code of other team members and provide constructive direction.
· Drive continuous improvement of software quality, CX and maintainability of products/features.
· Continuous learning of technology trends, tools, and approaches, including sharing this knowledge with your team.
· Mentor and lead developers by cultivating curiosity and deep technical understanding.
· Additional duties as assigned.
BASIC QUALIFICATIONS
· Programming experience with at least one modern language such as Java, C++, or C# including object-oriented design
· 1+ years of experience contributing to the architecture and design (architecture, design patterns, reliability and scaling) of new and current systems.
· 2+ years of non-internship professional software development experience
· Experience writing clear, maintainable and extensible code.



PREFERRED QUALIFICATIONS
· Bachelor's Degree in Computer Science or related field.
· 4+ years industry experience in software development.
· Experience programming with Java or similar OO language.
· Development in object-oriented design, big data and large scale distributed systems.
· Experience building complex large scale software systems servicing millions of users.
· Experience working with AWS, NoSQL, streaming/lambda architectures (Apache Spark, Storm, Kafka).
· Interest in the field of personalization.
· Strong problem-solving skills with the ability to navigate highly complex and ambiguous situations.
· Experience building and delivering software systems to internal or external customers.
· Strong verbal and written communication skills, enabling effective messaging with both technical and non-technical audiences.
· A high-quality bar: documentation, unit testing, code reviews, test automation, continuous integration & deployment. Enthusiasm for instilling this attitude in others.
· Adaptable, enterprising, and willing to take ownership.
· Able to make improvements to the team's development and testing processes.
· Able to establish good working relationships with peers. Able to recognize discordant views and take part in constructive dialogue to resolve them.
· Able to mentor teammates on team software, team culture, and customer obsession.
Audible Success Profile
Audible is built on a strong foundation as an Amazon subsidiary, so you'll get to play with all of Amazon's technologies at a company with an entrepreneurial spirit. We're looking for someone with a focus on our customers and our operational excellence to help us unleash the power of the spoken word.
Builder

You have an ability to deconstruct and simplify problems. You're committed to action and value the positive disruption your creations have on the status quo.

Customer Obsessed

Each project has our audience in mind, and you're passionate about developing fantastic customer experiences through innovative technology.

Passionate

You recognize that your work impacts millions of listeners and the technology you help build invigorates our community and inspires our peers.

Inventive

You imagine without fear and have an ability to navigate highly complex and ambiguous situations with creative problem-solving and curiosity.

Effective Communicator

You can adapt complex information to your audience, and your influence on internal team collaboration impacts design and drives engineering best practices.

Socially Conscious

You embrace working, living, serving, and playing in your neighborhood. You're ready to enhance our communities and the lives of our millions of customers.
Audible's People Principles celebrate who we are and where we've been, and guide the way we work shoulder to shoulder to enhance the lives of our millions of customers around the world. They reflect and apply to everyone who works at Audible—the entrepreneurs and operators, the dreamers and the doers, those who have worked here for 20 years and those who have arrived in the past few weeks and months.
What we can offer you
We are a community of brilliant minds, brimming with fresh ideas and working shoulder to shoulder to achieve greatness. And because of this, we think it's only fair that we offer some nice little perks to everyone who goes the extra mile at Audible.

Flexible Work
We promote flexibility in how and where we work with our Hub+Home hybrid workplace model.

Health
Dental and vision plans, life insurance, and the medical plan options that suit individual needs.

Savings
Plan for your future with employer-matched savings accounts.

Stock
We grant our employees restricted stock units, because we want them to think and act like owners.

Time Off
We love what we do but everyone needs the opportunity to hit the refresh button. Take advantage of vacation days, sick days, and personal days to rejuvenate.

Social
From tickets to local events and exciting company-sponsored events, regular outings and team-building events foster our spirit of collaboration.

Amazon Discount
As part of the Amazon family, Audible employees are entitled to a discount on products on Amazon.

Learning & Development
We want to help you grow with learning and development programs, leadership training and tuition reimbursement.
What keeps me motivated here in one word is 'opportunities.' Being able to deep-dive into complex cross-domain problems and stepping out of my comfort zone with projects, technologies and people. I can spontaneously collaborate with literally anyone—from my Audible teammates to my Amazon counterparts to our CIO and CEO—and most importantly get valuable feedback along the way.
Anshika Priyadarshee
Software Development Engineer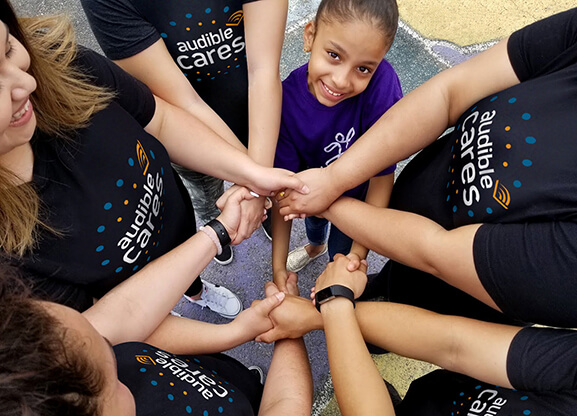 Community Impact
At Audible, we seek to exemplify what a company can mean beyond what it does. As Newark's fastest-growing private employer, we recruit and cultivate local talent as well as drive forward a wide range of community initiatives with a focus on supporting Newark's renaissance. Our global offices embrace their local communities as well, and our employees around the world volunteer and serve in their communities in addition to seeding and growing the local creative economy.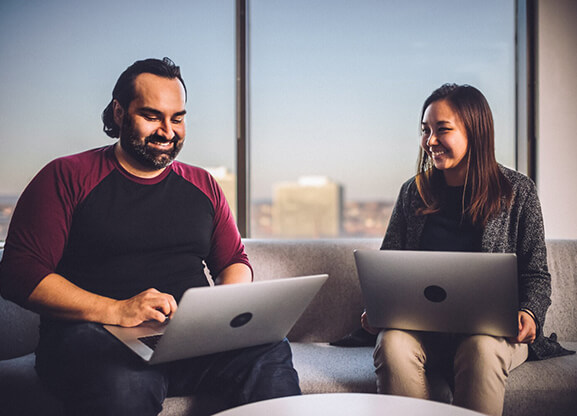 Benefits
Plan for every chapter of your career journey with a wide range of generous benefits that you can rely on. We're fostering an environment where everyone can thrive, individually and as part of the greater Audible community.